Winter in Tokyo is stunning, with crisp cool air and pure blue skies. Sure, you'd want to soak in an onsen every day, but you'd be missing out. Mt Fuji is especially beautiful this time of year, with the plum blossoms in full bloom and the city bejewelled with millions of sparkling lights for the yearly illumination displays, so dress warmly and see Tokyo in all its wintry beauty.
Tokyo is a lively and bustling city with a plethora of tourist attractions showcasing both old and modern Japanese traditions. Millions of Japanese fans consider it the perfect travel destination, especially during winter. Winter in Tokyo means there's a lot to see and do for families and people of all ages.
Why do people look forward to winter in Tokyo? What's so special about this busy city during winter?
Best Things to do in Tokyo in December 2021
From national attractions, ice skating, hot spring water resort, Tokyo's winter illumination, to annual Japanese events, there's no lack of where to visit and things to do in Tokyo in December 2021.
Ice Skating
Ice skating is one of the most popular winter hobbies. And, in Tokyo, there are various locations where outdoor ice skating rinks are open for a limited time throughout the winter.
This winter, Urban Dock Lalaport Toyosu will open an outdoor ice skating rink called "Sea Side Ice Skating Rink" on its beachfront deck from early December until mid-February. The wide skate rink (approximately 360 square meters) is located by the seashore, and tourists can enjoy ice skating while admiring the landscape. The deck will be lighted with a beautiful ambiance after the sunset.
Akasaka Sacas, like Roppongi Hills and Tokyo Midtown, is Tokyo's newest mixed-use development. The annual winter festival "White Sacas" features a big ice skating rink at Sacas Square, as well as various additional attractions such as food sellers, light-ups, and a small aquarium. Ice skating lessons for beginners and children are also provided for a fee.
Enjoy Tokyo's Winter Illuminations
Winter in Tokyo may be freezing, but the city's stunning illuminations will warm your heart. If there was ever an urban scene designed for illuminations, Tokyo is it. Thousands of lights illuminate various sites throughout the city in various ways.
December in Tokyo is the time of year when the city transforms into a bright and happy winter paradise, from champagne-colored bulbs that cover tree-lined streets to imaginative, modern-styled creations! Stroll through the streets and parks, or visit one of the many retail malls that have dazzling illuminations.
Soak Up in Hot Spring Water
Soaking in a hot spring bath is one of the nicest ways to spend a winter trip in Japan. In fact, it is an excellent cold treatment. Soaking in a hot water bath in a hot spring resort is a thousand-year-old Japanese ritual. Without a doubt, it has enriched their lives!
People frequently visit the hot springs adjacent to their home area to unwind. In the winter, the demand for bathing in hot springs increases dramatically throughout Japan, particularly in locations with significant snowfall.
Northern Japan's winters are significantly colder than Tokyo's, so don't be startled if you see snowfall in Tokyo; it happens every year! A powerful blizzard slammed Tokyo in 2014, making a living extremely tough. So, snowfall is the last thing you want to wish for in Tokyo.
However, the main thing to remember is that Tokyo has a lot of well-known hot spring spas inside its borders; hence, soak your body in Niwa no Yu hot spring bath. Their wonderful spa service is well worth the money, and I hope you will go at my urging.
Go for the Fullmetal Alchemist Exhibition
Fullmetal Alchemist, one of the most successful Japanese manga/anime series of all time, is celebrating its 20th anniversary this year with a number of special events and projects. The primary event of the anniversary will be a unique exhibition hosted in Tokyo and Osaka beginning in December 2021.
Following the success of previous exhibits conducted from 2017 to 2019, the original illustration show will return on a larger scale with a greater number of exhibits and materials.
Attend the Tokyo Comic CON 2021
COMIC-CON, the world's premier pop culture event, takes place in Tokyo (Makuhari Messe International Exhibition Hall) for three days in early December. TOKYO COMIC-CON is a sister event to the Silicon Valley Comic Con, which was started by Stan Lee, the famed creator, and will celebrate both Japanese and American pop culture.
Visitors can enjoy a wide variety of elements, including comics, animation, games, and movies, as well as meet notable Hollywood guests. Previous years' special guests at COMIC-CON TOKYO featured Ron Weasley from the Harry Potter series, Sebastian Stan from the Avengers series, Zachary Levi Pugh from Shazam, and Orlando Bloom from The Lord of the Rings.
Visit Tokyo Disney Resort
The Tokyo Disney Resort (DisneySea and Disneyland) organizes a number of seasonal events throughout the year, and the annual Christmas event "Disney Christmas" is ideal for the year's grand climax.
The entire park will be decorated for the holidays, and there will be unique programmings such as attractions, limited-edition food and drinks, shows, parades, and merchandise collection.
Attend The Kimetsu no Yaiba Exhibition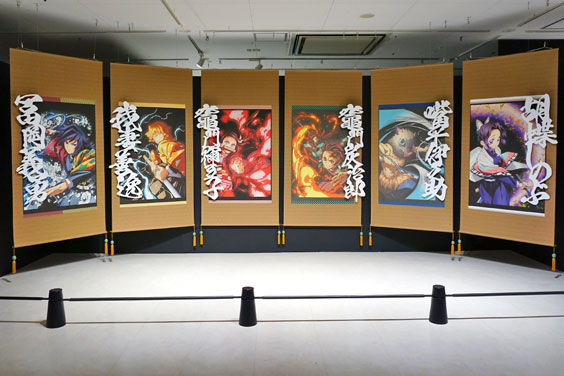 Demon Slayer: Kimetsu no Yaiba, the mega-popular Japanese anime/manga series, will have its own exhibition in Tokyo this autumn! Kimetsu no Yaiba Gotoge Koyoharu Exhibition, a special exhibition concentrating on Demon Slayer: Kimetsu no Yaiba's manga series, will be presented in Tokyo and Osaka from 2021 to 2022.
The exhibition will first be shown at the Mori Arts Center Gallery in Tokyo from October 26 to December 12, 2021.
Check Out Harry Potter: A History of Magic
Harry Potter fans in Japan are overjoyed because an international touring exhibition, Harry Potter: A History of Magic, is finally making its way here to commemorate the 20th anniversary of the release of the first work in the Harry Potter film series, "Harry Potter and the Philosopher's Stone," in Japan.
Visitors can explore the universe of Harry Potter by using items from the British Library's collection pertaining to alchemy, astronomy, pharmacology, fictitious animals such as phoenixes and dragons, and so on, in accordance with the curriculum of the Hogwarts Magic School.
Furthermore, there will be a plethora of unique magical materials on display, including original manuscripts and sketches belonging to the author J. K. Rowling herself.
Attend the Sanrio Exhibition
Sanrio's 60th anniversary will be commemorated by a unique display in Tokyo from September 2021 to January 2022. The show includes important original drawings, materials, and items of Sanrio characters, as well as past issues of Sanrio's monthly magazine, Ichigo Shimbun (Strawberry News).
Visitors may learn about the cute Sanrio characters and explore the company's roots, including behind-the-scenes anecdotes and how the popular figures were formed over the past 60 years.
Go for The Odaiba Rainbow Fireworks & Illumination Island
Every Saturday in December, a firework show called "Odaiba Rainbow Fireworks" is hosted in the Odaiba area. The performance begins at 7 p.m. and features stunning fireworks synchronized with music, illuminations, and the magnificent Rainbow Bridge in the background for 5 minutes.
There is also a winter event called "Illumination Island Odaiba," which is held every evening until Christmas. The event includes beautiful winter illuminations and Fairy lights at 23 various Odaiba facilities. It's one of Tokyo's most spectacular winter illuminations.
Check Out the Comic Market 99
The Tokyo Big Sight hosts the Comic Market (Comiket), one of Japan's largest comic-related events, twice a year in August and December. Thousands of manga created by professional and amateur artists are on display at the festival, which also draws a large number of cosplayers.
The COVID-19 epidemic forced the postponement of Comiket 99 from the winter of 2020 to the winter of the next year.
Enjoy Some Afternoon Teas at The Steakhouse
The colorful, savory, and pleasant afternoon tea box is offered at THE STEAKHOUSE, a premium American-style steakhouse on the 3rd floor of the ANA InterContinental Tokyo. The Afternoon Tea Boost includes 11 delectable petit desserts as well as finger-licking savory meals like burgers and hotdogs.
There is also unlimited tea, coffee, and non-alcoholic beverages. The one-of-a-kind afternoon tea set comes in one of two specially designed wooden boxes for this menu. Energize your day with the delectable and photogenic afternoon tea in the heart of Tokyo!
Go Shopping in Tokyo
If you are planning a vacation to Tokyo this winter and are looking for prominent shopping districts, consider Akihabara, Shibuya, Ginza, Omotesando, Harajuku, Marunouchi Shinjuku, and Nihonbashi.
Tokyo is regarded as one of the world's retail hotspots. There are products marketed by both local and international brands in the retail centers.
It provides a diverse selection of buying options, ranging from traditional crafts to modern accessories such as electronics, anime merchandise, and trendy fashion. In truth, selecting the ideal keepsake is not a difficult task here.
Fukubukuro, or lucky bag, is a type of mystery shopping in Tokyo during the winter. Purchasing a Fukubukuro after New Year's Day is a beautiful Japanese tradition. It features a number of products that are filled with stuff related to the business and are available for purchase nationwide.
Visit Traditional Japanese Gardens in Tokyo During Winter
Is it worthwhile to pay them a visit? Tokyo is well-known for its exquisite traditional Japanese gardens and parks. They are the city's true draw.
Anyone looking for some greenery in this busy and diverse metropolis should consider visiting one of the city's top gardens. You may be thinking to yourself, "Do they look attractive in winter?" It all depends on you and the weather conditions on the day you go.
In comparison to other seasons, winter appears to be less curiously appealing to visit. They appear to sleep for a long time before the ume flower buds burst into life. People, however, still love strolling around the garden trails as part of their daily walking workouts.
Imperial Palace East Garden, Shinjuku Gyoen, Koishikawa Korankuen, Mukojima Hyakkaen Garden, Rikugien Garden, Hama Rikyu, and Kyu Shiba Rikyu Garden are some of the best gardens to visit in late winter.
Enjoy Christmas Dessert Buffets
This winter, all-you-can-eat dessert buffets with a Christmas/winter theme will be available at a number of Tokyo venues.
Choose your favorite dessert buffets, from delectable chocolate desserts to traditional Christmas dishes, and treat yourself as the sweetest Christmas present!
Experience the New Year (Oshogatsu) Celebration in Tokyo
Find a cause to stay in Tokyo till the spectacular New Year's Eve celebration. When it comes to New Year's Eve celebrations, Tokyo is a favorite location. It provides a wide choice of tempting options based on your interests, including a fantastic opportunity to learn about Japanese New Year traditions.
It will carry you through an endless stream of gorgeous, hypnotic moments, much like a river flowing downwards. The most prestigious event you may attend is the New Year's Eve Countdown.
Make it memorable by taking in the firework displays over Tokyo Bay, Tokyo Tower, or Tokyo Disneyland. The following are the three greatest spots in Tokyo to see New Year's Eve fireworks displays.
Final Words
Lastly, go discover the historical places of Tokyo – places like the Tokyo Imperial Palace and the Imperial Family Members. The historical sites in Tokyo are not as crowded in the winter as they are in the spring, summer, and autumn. On New Year's Day, however, some of the locations will be crowded with visitors.
Consider the Tokyo Imperial Palace, where the current Emperor of Japan and his family members only appear in public on his birthday and January 2 (New Year's Greeting).
Visitors to this location are not permitted to enter the palace's interior grounds; but, if you come here in the winter, you will be able to do so and enjoy a wonderful ambiance.
There are tons of best things to do in Tokyo in December 2021. And with this guide, you can know where to attend and what to do during your stay.