Anime has played a significant role in the lives of current Gen Y adults since their childhood. One has always desired to be a part of the anime world, whether it's because of Pokemon, Dragon Ball, One Piece, or Naruto. We've all fantasized about being a Pokemon master like Ash Ketchum, a Super Saiyan like Goku, a pirate-like Luffy, or a ninja-like Naruto while watching our favorite anime. While you won't be able to participate in the events, you will be able to eat at locations in Japan where you can let your inner fanboy out.
If you're visiting Japan and are a fan of anime and manga, you'll be kept very busy because Tokyo has a plethora of anime and manga-related activities. Whether it's shopping for anime stuff, visiting real-life landmarks featured in anime, or participating in all the anime-themed activities available in Tokyo, there's something for everyone. There's just so much to do. In this post, we'll look at a highly entertaining pastime for all anime fans: visiting anime-themed cafes and restaurants.
Permanent Anime Cafes
Sailor Moon Restaurant
Sailor Moon is one of the most well-known anime series of all time, and it piqued the curiosity of many people in Japan and Japanese culture. The cafe launched in August of 2019 and has been a huge hit since then.
So, let's begin with the most crucial aspect of all: food! To begin with, every one of the food and drink is decorated in a sailor moon theme, so no matter what you choose, it will be super cute.
Source-https://tictokyo.wordpress.com/2019/08/18/sailor-moon-cafe-show-restaurant/
Every month, the cafe's menu varies. The cafe offers two distinct menus: one for lunch and another for dinner.
There are some gifts for you too:
"COASTER: With every order, you will receive an original Sailor Moon Coaster. There are a total of 6 to collect!
PLATE: You can keep the Sailor Moon themes plates that your food is served on as they place a paper on it so it is clean.
LUNCH BOX: Ordering off the lunch menu will get you a FREE Sailor Moon-themed lunch box."
The Live Shows in the Cafe
Actors dressed as various characters from the anime perform in the live shows. They primarily dance and sing along to music, so don't be concerned if you don't understand Japanese because they don't speak it. Unfortunately, live shows are not available during the lunch hour, so if you really want to see one, you'll have to go during dinner time.
Let's look at the tickets now:
Before you go, you must reserve your tickets in advance on the official website. However, the website states that you do not have to pay until after your dinner.
The prices depend on 2 things that are whether you are visiting the cafe at lunchtime or dinner time and how good of a seat you want for the show.
"Lunch Time (12:00 – 13:30) : Cost of the tickets is 3,500 yen which includes 1 food item and 1 drink. Extra food and drink must be paid for separately. "
"Dinner Time (16:00 – 22:40): Cost of the tickets is 8,500 yen for an 'S' seat which is a better view of the show. And this includes the show charge, 1 food item, and 1 drink. For an 'A' seat, the cost of the tickets is 7,500 yen and this again includes the show charge, 1 food item, and 1 drink."
Gundam Cafe
The Gundam Cafe is a must-see destination in Akihabara otaku area. The front of the cafe is decked with incredible statues and exhibits, but the inside is a sit-down cafe serving modest Gundam-inspired food. While the cafe, like many others, is meant for a quick bite on the go, it does serve some outstanding dishes.
All customers are greeted with enthusiastic greetings from the moment the cafe opens at 10:00 a.m. Their robotic menu is available for you to enjoy. The dishes are garnished in the style of the Gundam robot you choose. There is a range of Gundam-themed foods available in the cafe.
Source-https://g-cafe.jp/tokyo/
A bowl of curry with robot-cut vegetable garnishing costs roughly 1200 yen, with extra toppings ranging from 50 to 100 yen. A bowl of salad and other appetizers might cost anywhere from 430yen to 630yen, depending on your preferences. From 5:00 pm till closing time, legal-age visitors can quench their thirst with their original Gundam-themed cocktails.
If you're looking for something unique to take home to your family, Gundam Cafe offers unique souvenir foods and snacks. For example, the manju shaped like Gundam robots and the Gunpla-yaki, a fun finger meal inspired by their original 1/144 model kit. These one-of-a-kinds, easy-to-make treats will satisfy your needs for soft and crunchy crusts filled with delightfully sweet cream or bean paste.
So, when your body clock says it's time to eat, go to Gundam Cafe. When you can eat and play with Gundam Wings, satisfying your appetite will never be a distraction from your childlike fantasies.
Cafe Mugiwara – One Piece Cafe
One Piece is one of the most popular anime/manga series in the world, with millions of fans worldwide. Fans all across the world have wished to travel the Grand Line of One Piece with Monkey D Luffy and the Mugiwara Pirates at some point. Cafe Mugiwara is the only One Piece Library Cafe in the world, and it's part of the Tokyo One Piece Tower. The cafe not only serves wonderful dishes based on the personal favorites of One Piece characters, but it also allows you to catch up on tales you may have missed thanks to its enormous collection of One Piece manga, magazines, and books in six languages.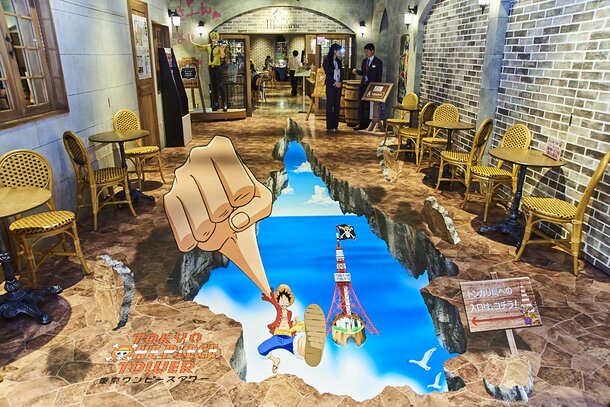 Source-https://otakumode.com/news/57e1e402a2e5a47e0a87b5a0/Cafe-Mugiwara-Photo-Report
You can get a fantastic range of sandwiches, burgers, pancakes, and desserts based on the personnel at Cafe Mugiwara. Try everything with Luffy's Luxurious Feast Sandwich, Zoro's Santoryu Burger, or Nami's Extravagant Orange Pancake! Coffee, drinks, and a good selection of international beers are also available.
Luffy's lavish feast sandwich, Zoro's Santoryu Burger, and Nami's spectacular orange pancake are among the cafe's specialties. Don't miss the detailed reproduction of One Piece creator Eiichiro Oda's desk while you're there.
As a bonus, guests and their younger companions can participate in a simple treasure hunt in the newly renovated Cafe Mugiwara. Other characters' items can be found around the cafe, in addition to this copy of Luffy's famed straw hat and Chopper's blue rucksack.
Pokemon Cafe
Pokémon Cafes can now be found in Nihonbashi, Tokyo, and Shinsaibashi, Osaka.
The Pokémon Cafe has two locations, both of which require advance bookings. The online system makes it simple to search for available places, and it supports both English and Japanese.
The restaurant has both English and Chinese menus, and credit cards are accepted. All Pokémon Cafes are non-smoking and wheelchair accessible.
The Pokémon Cafes in Tokyo and Osaka are located within Pokémon Center DX stores, which sell a wide variety of Pokémon merchandise, including exclusives and freebies. Stop visit a Pokémon Center while you're in Japan if you're a Pokémon fan or looking for a gift for someone who is.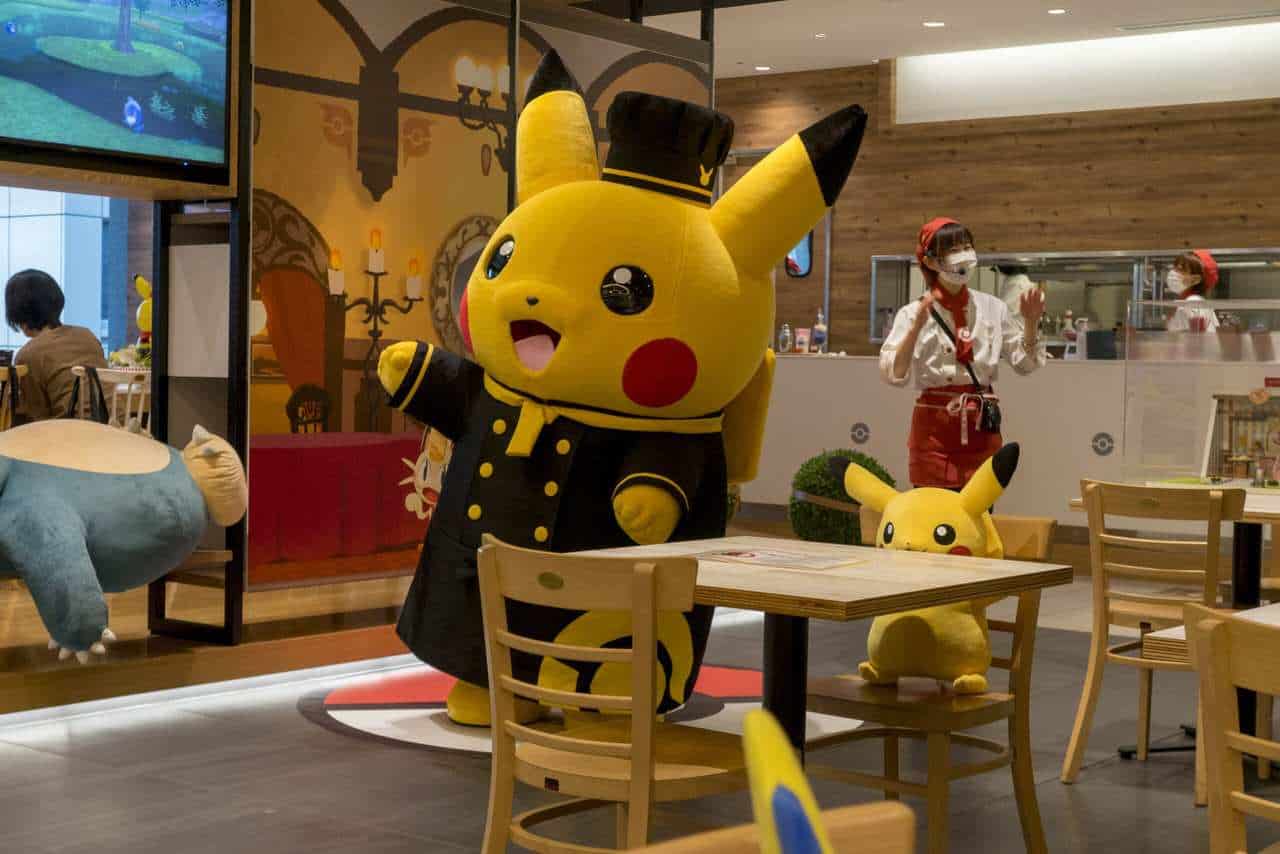 Source-https://voyapon.com/pokemon-cafe-the-first-permanent-pokemon-cafe-in-tokyo/
Visitors can enjoy cute Pokémon-themed cuisine as well as a variety of exclusive souvenirs at this location, which is designed to appeal the enthusiasts of all ages. On the menu, you'll find crowd-pleasers including pancakes, curries, and parfaits, some of which come with freebies. You may even order a cappuccino with latte art featuring any of the first 251 Pokémon. Hearty Pikachu Plate and Eevee Teriyaki Chicken Burger are two of the cafe's most popular dishes. From time to time, the café offers limited-edition delicacies such as the Pikachu Halloween well spread platter 2019 and Zoroa's Halloween Roast Beef Burger.
You won't feel like you're dining in an arcade with the sophisticated, wood-toned interior decor. Both branches have been built to provide the perfect mix of game-inspired enjoyment with an airy, modern vibe that everyone will love.
Sanrio Character Cafes
Some of the most popular permanent character cafes are Pompompurin Cafe, Hello Kitty Cafe, and Cinnamoroll Cafe.
Pompompurin Cafe
The PomPomPurin Cafe in Harajuku, which opened in 2014, was the first PomPomPurin themed cafe in Tokyo. Even though three other cafes have opened in the city since then, it is still the busiest, to the point where the staff distributes "no-queuing tickets" every morning before opening to limit the number of customers. The cafe offers a child-like environment that will appeal to kids and adults who are still young at heart, with yellow and brown tones to match the little dog's coat, walls filled with photographs of iconic Sanrio characters, and tablecloths with PomPomPurin on them.
Source-https://matcha-jp.com/en/1707
The PomPomPurin Cafe cuisine is appropriate for any budget. A broad and unique menu is available here, with lunch sets starting at roughly 1,250yen. Indeed, the cafe pays homage to Japanese cuisine's great classics while adding its own unique twists. The chicken-coconut curry, which is a spin on the standard Japanese curry available in all themed cafes in Tokyo, is the most recommended meal among the numerous charming items on the menu.
The cafe serves a selection of charming PomPomPurin-themed pastries and ice creams. Not to mention the character's name-giving dessert: a little pot of caramel custard pudding topped with a chocolate beret!
Hello Kitty Cafe
Cafe de Miki is a Hello Kitty cafe in Tokyo's Koto district. Because the cafe is on the artificial island of Odaiba, it is normally quite quiet. This makes it a great location to go if you want to socially isolate yourself from other people while still consuming treats. The style of the interior is shockingly sleek and modern. Many people love speaking quietly with friends or family while relaxing at the cafe.
Of course, people go there because of the Hello Kitty decorations on the food and drinks. Desserts cost around 1,000 yen each and come in a large quantity. They're all made with care and attention to detail to create a kawaii feast for the eyes.
Source-http://www.thecatyouandus.com/japan-2-0-hello-kitty-cafe-himeji-castle/
A popular choice is fluffy pancakes. For example, a mango pancake dessert plate with ice cream and fruit bits, as well as pancakes topped with mango cream, is available.
There are a lot of matcha items on the menu. This matcha latte and traditional Japanese ice cream dish with mochi, whipped cream, and anko sweet beans are available. During the warm Japanese summer, ice cafe lattes and ice cream cones are popular choices.
Tea sets for the afternoon are also available for around 2,000 yen. If you want to experience a lot of different things and share them with someone, this is a good option. There are other savory options on the menu, such as this one, in which the pancakes are topped with eggs and bacon. If you've worked up an appetite wandering around Odaiba, this is a big dinner.
Cinnamoroll Cafe
While most character cafes are only open for a limited period, the Cinnamoroll Cafe is a "permanent" character cafe. It's on the 1F Shinjuku Marui Annex, about a 6-minute walk from Shinjuku station. The interior's natural theme produces a really soothing ambiance.
The cafe is adorned with Cinnamoroll, a Sanrio character, and serves a full menu of Cinnamoroll-themed cuisine and beverages.

Source-https://www.dangonews.com/popup-cafe/cinnamoroll-cafe
The cafe wows fans with incredibly adorable meals like the Cinnamon no Mogu Mogu Salad Plate and Cinnamon Special Shortcake. In addition to its earthy and wood-heavy decor. In addition to Omu Rice, Beef Stroganoff, Special Shortcake, and other seasonal meals, the cafe serves cute, enticing Cinnamoroll-themed Omu Rice, Beef Stroganoff, Special Shortcake, and some seasonal foods.
A take-out menu with hot and cold drinks is available in the cafe. You can order your take-out drink online for pick-up and get a coaster as well. Cinnamoroll Cafe merchandise and limited-edition Cinnamoroll Cafe goods are also available for purchase at the cafes.
IF YOU LOVE ANIME CAFE THEN CHECK OUT MAID CAFES IN JAPAN HERE
Non-Permanent Anime Cafes
Jujutsu Kaisen Cafe (15/07/21-12/09/21)
This summer, Jujutsu Kaisen created a Jujutsu-themed pop-up cafe in Tokyo and other parts of Japan (2021). For getting a seat in the cafe, the system of prior booking(online) was going on through the official website.
The cafe had a WHOLE menu on offer, selling Jujutsu Kaisen themed food and drinks. On top of that, there was a full range of unique and original Jujutsu Kaisen merchandise. On offer that was only available at the cafe.
If you're looking for something savory, a sandwich inspired by Kento Nanami is available. You can also order a cute Panda-themed burger with a white bun. A visually striking black and white dinner with ginger flavor are also available, styled after fan-favorite character Megumi Fushiguro.
Source-https://japantour.xyz/2021/03/03/jujutsu-kaisen-cafe-2021/
If you're looking for something sweet, there are two tarts inspired by Satoru Gojo. The first has Zunda bean paste in it. The other is centered on a Mont Blanc pastry and is inspired by Gojo's conflicts with Jogo. There's also a black sesame drink with cotton candy in the shape of a Panda. You can even get a latte with a finger-shaped cookie.
There is, however, one item that stands out. You can have one of Sakuna's fingers delivered to your table for 399 yen and eat it. If you don't want to be caught eating a cursed finger in public, this finger is available for takeout.
Haikyuu!! Donut Shop (05/08/2020 – 09/07/2020)
The cafe had two locations in Tokyo: Ikebukuro and Nagoya.
People had to make reservations for the cafe online to get in. There was a whole menu of Haikyuu-themed meals as well as a full drink menu at the cafe! Apart from the food, the cafe was decked out in Haikyuu souvenirs.
Source-https://kinokotori.storenvy.com/collections/1256472-acrylic-keychains/products/27567669-haikyuu-donut-charms
There was a choice of sweet and savory foods to choose from. Food products cost between 800 and 1200 yen. There was also a broad selection of drinks available, all of which cost 600 yen.
At the cafe, there were a plethora of limited-edition Haikyuu goods to choose from. The products included everything from badges to stationary to a tote bag! All of the retail items were priced differently, ranging from 400 to 2000 yen.