We would all accept that condom is the most widely used contraception nowadays. Most people believe that all condoms are the same, but choosing the appropriate condom can provide you peace of mind in knowing that you are using a dependable contraceptive to meet your sexual demands. Not only does it have a 99% success rate in preventing pregnancy, but it also reduces the risk of contracting harmful diseases during sexual activity. Choosing the appropriate condom may be more significant than you realise.
This might boost your motivation in conducting sexual activity and provide a relaxed environment for you and your partner.
Condoms are the most accessible type of contraceptive in Japan for most couples who are not planning to start a family or in general avoid sexually transmitted diseases. In reality, almost all of the time, all you have to do is peek at your love hotel suite's bedside, where a few of them will be available for you.
However, like with any splurge, you're going to have some concerns as you browse the stores in search of the perfect condom. Every one of the condoms on this list has been picked by Japanese-Western mixed-race couples and assessed by both men and women for size, texture, and durability to make it simpler for you to discover the ideal variety for you and your partner. Fit for women refers to how simple it was for them to put on their man.
Please set aside any preconceived notions you may have about Asian males and their size right now.
There have been several studies on penis size throughout the years that have proven that the average guy is around the same size all across the world.
In general, the average Japanese condom has a circumference of 52-54 millimetres (the average Western condom, 53-55 millimetres). To put it another way, unless your companion is extraordinary in one or both directions, any male, Japanese or not, may get any of the condoms on this list. You may also avoid premature ejaculation and discomfort by selecting one that is the right size, substance, and thickness for you. Condoms come in a variety of sizes, styles, and sensations; we'll show you some of the most popular in Japan to help you choose the appropriate one.
The following condoms were picked and rated by Japanese men and Western women based on some of the most sold condoms from the Japanese marketplaces. After experiencing these Japanese condom brands, we guarantee you won't return to your usual condoms.
Sagami Original 001
Source-https://www.condomjp.com/products/sagami-original-001
The Sagami Original 001 condom is constructed of silicone rather than rubber. It is a thin condom with a thickness of only 0.01 mm, manufactured of a biocompatible polyurethane material rather than standard rubber. It has good heat conductivity and transmits skin warmth quickly.
During your special occasion, the smooth surface provides a natural feel. It is also advised for persons who are allergic to natural rubber. Individually wrapped to offer the highest possible quality for your special occasion.
Brand:       Sagami Original
Special features:   Extremely Thin
Size:      Small to average
Shape:       Straight
Texture:    Smooth
Colour:      Clear
Flavour:     Unflavoured
Material:   Non-latex polyurethane
Thickness: 18 microns
Width at base:   36mm±2mm / 1.42″ inches
Length:      170±5mm / 6.7″ inches
Fit: ★★☆☆☆
Feel: ★★★☆☆
Durability: ★★★☆☆
Rilakkuma Okamoto Honey condoms
Source-https://worldcondoms.com/products/okamoto-rilakkuma-honey-box-10
Rilakkuma Okamoto Honey condoms come in a distinctive wrapper featuring the lovely Rilakkuma, who is so charming that you could mistake it for a package of candy. According to men, "They don't appear to be any different from conventional condoms, but they felt a lot better. I was more emotional than normal when I used them." From a women's perspective, it comes highly recommended. "It's a little slick at first, and we decided to roll up a few times, but it was beautiful once we got rolling and it warmed up. I can't emphasise how highly I suggest them."
Warming lubricant is coated on adorable condoms to enable you to indulge in temperature play and make your nights especially magical. Each package contains ten pink condoms that are individually wrapped. They are of standard size and have a straight design with a reservoir end.
Okamoto condoms are highly long-lasting, CE-certified, electronically checked, and 100% authentic.
Brand:       Okamoto
Also known as  Rilakkuma Meets Honey, Love Love Hot
Special features:         Warming
Size:            Regular
Shape:       Straight
Texture:    Smooth
Colour:        Pink
Flavour:       Unflavored
Material:   Natural Rubber Latex
Thickness:          50 microns
Width at base:   50±2mm / 2.0″ inches
Length:      170±5mm / 6.7″ inches
Fit: ★★★☆☆
Feel: ★★★★★
Durability: ★★★★★
Glamorous Butterfly Hot Type 1000
Source-https://www.dcard.tw/f/sex/p/224855028
Teenage female packaging is designed to appeal to high school students. A stylish condom with a generous amount of hot moisturising jelly at the tip. Not only is the box eye-catching, but the individual wrapping is also fashionable, featuring black and pink butterflies. This product is based on the voice of a high school girl and should be purchased by females who are purchasing condoms for the first time. This product does not need to be deflated at the tip like traditional condoms, so you won't get an uncomfortable gloss the first time you use it.
The Glamorous Butterfly hot condom contains plenty of hot jelly lube to provide your companion with sensitive warmth. There's no need to deflate the condom before using it. The pink-coloured Glamorous Butterfly Condoms are composed of latex.
Brand:       JEX
Special features:  Warming
Size:  Regular
Shape:       Straight
Texture:    Smooth
Colour:      Pink
Flavour:     Unflavoured
Material:   Natural Rubber Latex
Thickness: 50 microns
Width at base:   50±2mm / 2.0″ inches
Length:      170±5mm / 6.7″ inches
Fit: ★★★☆☆
Feel: ★★★☆☆
Durability: ★★★☆☆
Okamoto Zero Two 002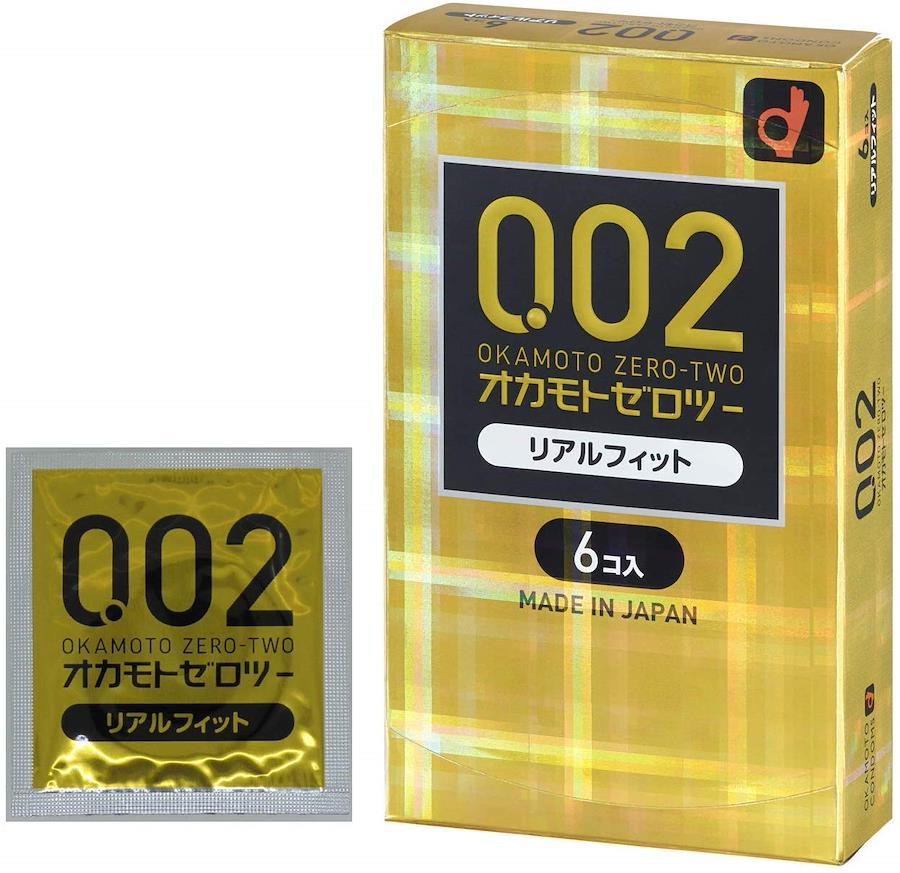 Source-https://zenplus.jp/okamoto-zero-two-0-02mm-real-fit-6-pieces/p/ookinipharmacy:2bf4b2c7-a645-4c36-9069-1e045ba93307
When it comes to Japanese condoms, the basic standard is usually seen at mid-priced love motels. With a 0.02mm thickness, Okamoto Zero Two lives true to its name, bringing direct warmth from your companion. It provides a high level of softness, suppleness, and safety. It is made of polyurethane and is suitable for persons who are allergic to rubber. The warmth and feeling of human skin may be felt immediately, and it is impossible to obstruct your activities.
Okamoto Zero Two 002 condoms are made of ultra-smooth water-based polyurethane for maximum sensitivity and enjoyment.
Long-lasting intercourse is ensured with lubricated condoms, which also give extra wetness for ultimate protection. Okamoto Zero Two 002 are ideal for persons with sensitive skin and latex allergies because of their classic fit and standard design.
Brand:       Okamoto
Also known as Okamoto Zero Two (0.02), 0.02EX
Special features:         Extremely Thin
Size:      Straight
Texture:    Smooth
Colour:      Clear
Flavour:     Unflavoured
Material:   Non-latex polyurethane
Thickness: 20 microns
Width at base:   52±2mm / 2.05″ inches
Length:      170±5mm / 6.7″ inches
Fit: ★★☆☆☆
Feel: ★★☆☆☆
Durability: ★★★☆☆
Okamoto Big Boy XL
Source-https://www.okamotoglobal.com/products/big-boy
These condoms are the largest of the Japanese condom sizes accessible in most retailers, and they are also on the more expensive side of the spectrum, but they come in a box of 12 condoms. Okamoto Big Boy XL is a Sheerlon TM condom that is translucent and reservoir-ended.
Sheerlon TM is a kind of latex that has a silkier feel and makes you feel as if you're wearing nothing at all. Sheerlon TM latex condoms are super thin, allowing for more sensitivity while maintaining the same amount of protection as normal latex condoms.
For added comfort, these condoms are longer and broader than normal condoms. Condoms in this size are ideal for people who find regular-sized condoms uncomfortably snug.
Brand:   Okamoto
Special features: Thinner
Size:   Larger
Shape:           Shaped
Texture:     Smooth
Colour:       Clear
Flavour:      Unflavoured
Material:    Sheerlon™ latex
Thickness:  50 microns
Width at base:    57mm / 2.25″ inches
Length:       185±5mm / 7.3″ inches
Fit: ★★★★★
Feel: ★★★★☆
Durability: ★★★★☆
SKYN Premium condoms
Source-https://www.condomjp.com/products/fuji-latex-skyn-premium-10s
In terms of feel, SKYN Premium condoms are promoted as the closest to human skin. SKYN® is the world's first premium condom composed of polyisoprene (natural rubber), a non-latex substance that provides the highest level of sensitivity. Breakage-resistant, ultra-thin and sensitive, and odor-free! For people who are allergic to latex, this is a great option.
The majority of individuals consider these condoms to be the next best thing to wearing nothing at all.
Brand:        SKYN by Lifestyles
Also known as   SKYN by Mates, SKYN by Manix, SKYN by LifeStyles
Special features: Regular
Size:   Regular
Shape: Straight
Texture:     Smooth
Colour:       Clear
Flavour:      Unflavoured
Material:    Non-latex polyisoprene
Thickness:  63 microns
Width at base:    53mm / 2.1″ inches
Length:       200±5mm / 7.9″ inches
Fit: ★★★★☆
Feel: ★★☆☆☆
Durability: ★★★★★
Other condoms you should take a look into:
Okamoto Super Goku-Atsu is perfect for your first time. For a new experience and delight, try this. It has lots of lubricating fluid to provide a pain-free session. People who love a long and romantic encounter should try this. The rubber has been softened by 20% and the amount of lubricating jelly has been increased. Please give it a try if you don't feel a regular condom will last long.
Source-https://www.u-buy.jp/en/product/2C47ZUL8-okamoto-super-goku-atsu-gokuatsu-black-0-12mm-ultra-thick-latex-condom-10-count
Sagami latex condoms are created from Malaysia's best natural rubber latex. Sagami was the first condom factory in Japan, opening its doors in 1934. It has been producing high-quality condoms for over 70 years, backed by cutting-edge production technology and stringent quality control.
It is the best condoms have been sold in over 80 countries, as well as the Japanese     market, and have a solid reputation. You can trust Sagami to make your special night easier; the 009 dot is a thick condom with a dotted surface that will offer you and your companion a nice feeling. This condom is great for individuals who wish to have a long play while also satisfying their companion.
The Zone condom gives you a raw and personal experience. For individuals seeking a sense of belonging. It's a condom with a little rubbery sensation that's made with a lot of JEX's stealth jelly. The fulfilment with this condom is stated to be 99 percent, which is a stunning amount. The sense of worn rubber is eliminated by applying stealth jelly to the tip. When using a condom, the unique jelly technology reduces pain. It's made of latex and fits well.
Source-https://japee.tokyo/product/japeezgkbzplo/
Sagami Original 002 does not have a strong rubber odour. In fact, it is almost undetectable. This is a condom you should absolutely try if you want to be picky about thinness but the 0.01mm series is out of your price range. Improve your level of happiness while staying within your budget. This condom is ultra-thin, so it feels like you're not wearing anything at all. It is composed of non-latex material and is a great solution for latex allergy sufferers.
Reviews
"Of all the areas, I believe the fit is the one that couples should talk about the most. For both of them, it'll affect the way they feel." (A 30-year-old Japanese male)
"Durability is crucial to me because I can't use the pill due to health issues, so knowing I can relax and enjoy my sex with the correct condom is essential.  Just for that reason, I'd absolutely use SKYN again." (Canadian lady in her thirties)
"The thin ones are nice, but the price really adds up if you go more than a few rounds in a night." Not only that, but they're quicker to dry (depending on the material), so you can wind up injuring your partner by the end of the night." (A 30-year-old Japanese male)
Points to keep in mind
Strong, dependable, and light. In this collection, you'll find a variety of luxury condoms from Okamoto and Sagami, two of Japan's most well-known brands. Japan has perfected the skill of producing some of the world's thinnest condoms while maintaining strength and breakage resistance. The Kimono brand is recognised for integrating cutting-edge technology to provide condom consumers a more natural experience during sexual activity. Sagami condoms, which are excellent at letting warmth through, are also available at WorldCondoms. Give yourself senses that are just as excellent as, if not better than, those you would have without a condom.
What else to think about: if you only have one partner and/or know which size works best in general but still want to try out different types and brands of condoms, you might want to go straight for a more specialised sampler designed specifically for deciding between snug/smaller and medium/standard or medium/standard and large.
Best for: those in new relationships, those with several partners, or anybody who wants to experiment but isn't sure which size is right for them.