Japan is a festival-loving country, and no matter when you come, there will almost certainly be a festival or significant holiday taking place in at least one of the major cities. Matsuri, or festivals, are spectacular events in Japan that include colorful costumes and parade floats, delicious street cuisine, religious worship, and traditional performances.
You can start organizing your next trip now by picking any of the top 10 Japanese festivals and events you'd like to attend. While Japan has a plethora of stunning festivals, we've compiled a list of the ones we think visitors will appreciate the most below.
Japanese Festivals: A Brief History
Surprisingly, Japan is home to an estimated 300,000 Matsuri. The fact that practically every shrine, town, and hamlet has its own festival is one of the reasons for the large number. The focus of these might range from honoring a shrine's kami (a Shinto deity) to commemorating a significant historical event or commemorating a certain season. Processions and adorned floats are known as dashi, yatai, danjiri, and various regional varieties are featured in traditional Matsuri.
Processions are often accompanied by drum and flute music, and kami are occasionally brought from their shrines in mikoshi (basically a portable shrine carried by the procession). Each matsuri, on the other hand, is slightly different, with its own distinct personality and features. Some are calm and serene, while others are vibrant, noisy, and active, with dancing and singing. Traditional Matsuri is a wonderful method to learn about Japan's history and culture.
1.Yuki Matsuri – Sapporo
Hokkaido, Japan's northernmost island, is noted for having a lot of snow, especially in the winter. And in Sapporo, they chose to make snow sculptures out of it! Sapporo Yuki Matsuri began in 1950 with six sculptures created by local high school students and has since grown to become one of the world's largest snow and ice festivals, attracting over two million visitors each year and hosting an international snow sculpture competition.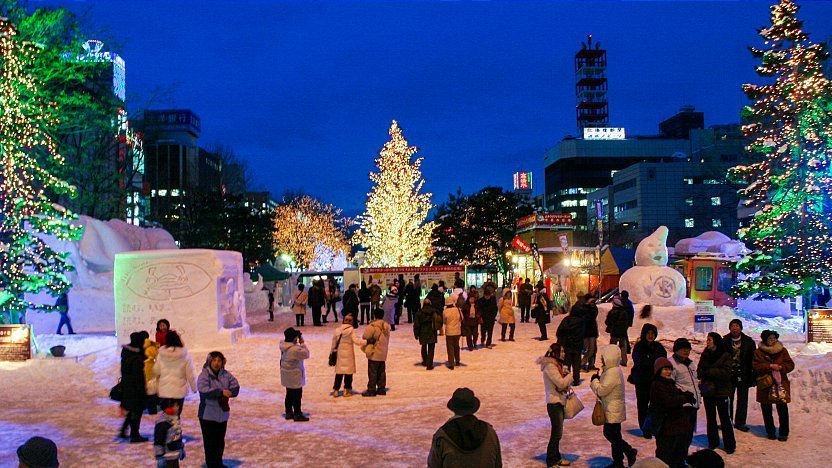 Source- https://www.japan-guide.com/e/e5311.html
Aside from snow sculptures, the celebration features cuisine, ice bars, entertainment, and my personal favorites: snowball fights and snow slides. They also light up the snow and ice sculptures at night, adding to their beauty and creating a fantastic environment. Don your warmest clothing and don't miss out on this celebration.
2.Nagasaki Lantern Festival
The Nagasaki Lantern Celebration, which takes place every year in Nagasaki City, is the first festival on the festival calendar. For 15 days, over 15.000 colorful lanterns and lights adorn the entire city to celebrate the Chinese New Year, which falls on the 25th of January through the 8th of February 2020 according to the Lunar calendar. One of Japan's longest festivals!
Source- https://travel.at-nagasaki.jp/en/what-to-see/62/
This festival was created by Chinese inhabitants in Nagasaki's Chinatown, which, along with Yokohama and Kobe, is one of Japan's three largest Chinatowns. It was made an official annual event of the city in 1994. Traditional lion and dragon dances, erhu performances, and Chinese acrobatics are among the many events where you may appreciate the beauties of Chinese culture. There are also wonderful places to visit as a couple, such as the Doza River, which has pink lanterns reflecting on the water's surface, and the Nagasaki Love Light, where you can donate a lantern to pray for a fulfilling love at the Confucian shrine.
3.Gion Matsuri
Kyoto Gion Matsuri (), one of Japan's three greatest festivals, is one of the most well-known festivals in the world. It's also one of the country's oldest matsuris, dating back to 869. There was a plague in Japan that year, and the Gion Matsuri was initially a religious ceremonial to rid the country of the disease.
Source-https://www.nippon.com/en/views/b03301/
This festival, which has been hosted in Yasaka Shrine for almost 1,000 years, lasts a month and is arguably Japan's longest event. The most well-known Gion Matsuri events are the great float processions known as "Yamaboko Junko," which take place on Oike and Shijo Kawaramachi streets on the 17th (Sakimatsuri) and 24th (Atomatsuri) of July.
4.Hadaka Matsuri
The Ohara Hadaka Matsuri (also known as the "Ohara Naked Festival") is a two-day yearly festival held in Isumi, Chiba. Half-dressed men take portable shrines through the town and into the local fishing harbor on Saturdays, before making a lot of noise and flinging them as high as they can into the air.
Source- https://www.japanistry.com/event/ohara-hadaka-matsuri/
The shiofumi, a procession in which each mikoshi (portable shrine) is carried into the sea one by one, is the most photographed phenomenon. A mikoshi procession across the town takes place on Sunday as well, but Saturday clearly draws the largest numbers. If you're going, try to arrive at the harbor area around lunchtime.
Despite its distance from Tokyo and location on the Boso Peninsula's east coast, Ohara is not difficult to get. For a little under 3,000 yen, you may take the Wakashio Limited Express from Tokyo Station in around 70 minutes (direct).
5.Awa Odori – Tokushima
On the island of Shikoku, the Awa Odori (Awa Dance) event began in rural Tokushima (previously known as Awa Province).
According to legend, the feudal lord of Awa hosted a massive celebration for the opening of Tokushima castle in the late 16th century. The participants are supposed to have started inebriated singing and dancing as musicians played a simple, syncopated beat throughout the night. This became a popular annual event, as well as one of Japan's most joyous matsuri.
Source-https://www.japan-guide.com/e/e7802.html
Despite its isolated position, Awa Odori attracts over a million people each year to Shikoku. Fantastic traditional clothing, a powerful (if stylized) dance, and extremely energetic singing, chanting, and music are all featured at the festival. It is, above all, a really friendly and lively dancing competition at its core.
The parade is made up of dance teams. Each team has its own set of costumes and takes a different approach to the traditional dance. The dance is known as the "fool's dance" and the atmosphere is party-like. "The dancers are fools, and the people watching are fools," the lyrics declare. Why not dance, since everyone is a fool?" If you can't make it to Tokushima, the Tokyo version of Awa Odori, which has been hosted in Tokyo's Koenji neighborhood since the 1950s, is worth checking out.
Even though it is smaller than the original Awa Odori in Shikoku, Tokyo's version has grown to draw over a million tourists each year. It is hosted in the Koenji neighborhood, a laid-back region just west of Shinjuku known for outstanding food and drink, concert venues, and vintage shops.
6.Tanabata Matsuri – Sendai
The Tanabata, or "Star Festival," which takes place on July 7th, heralds the start of summer in Japan. This celebration is based on Chinese folklore about two lovers who were separated on opposite sides of the Milky Way. They were only permitted to see each other once a year since it was too painful: on July 7th of each year, the two loves meet and are so pleased to be together that they fulfill all of your wishes.
This festival is held all over Japan, primarily in temples and shrines, but also in schools, businesses, and other places. However, in certain regions, it is observed between the 6th and 8th of August, according to the old Chinese calendar. This is the case with the Sendai Tanabata Matsuri in Sendai, Miyagi, Japan's largest and most famous Tanabata Matsuri, and one of the three great festivals in the Tohoku area, which attracts over two million visitors each year.
Source- https://www.gltjp.com/en/article/item/11578/
The Japanese write their wishes on strips of paper that are commonly hung on bamboo trees during the Tanabata celebrations, and many venues have colorful paper decorations. However, at the Sendai celebration, the entire city is covered in hundreds of bright Tanabata decorations, some of which are enormous! And the night before, there's a massive fireworks display (5th August).
7.Sanja Matsuri Tokyo
Asakusa Festival or Sanja Festival Sanja Festival is one of Tokyo's three major Shinto festivals, celebrated yearly in Asakusa Shrine on the third weekend in May for three days. With over 2 million visitors over three days, it is regarded by some to be one of Tokyo's largest and wildest festivals.
Source-https://en.japantravel.com/tokyo/sanja-matsuri/29790
The event honors the three founders of Senso-Ji temple, Hinokuma Hamanari, Hinokuma Takenari, and Hajino Nakatomi. Senso-Ji Temple is a Buddhist temple in Asakusa that is the oldest in Tokyo, having been built in 645. According to legend, the Hinokuma Hamanari and Takenari brothers caught a statue of Kannon, the goddess of mercy, in their nets while fishing on the Sumida River in March of 628.
And, despite putting the statue back in the river, it always came back to them, so they decided to stay, showing one of the leaders and constructing a shrine to house the statue when they returned to the hamlet.
8.Hina Matsuri
Some say the term Hina Matsuri comes from the Heian period's "nagashi-Hina," a ceremony in which wishers would float straw or paper dolls down a river, bringing with them their bad luck. In certain parts of Japan, the custom is still followed.
Another theory is that Hina Matsuri evolved from a Heian period game known as "Hina-Asobi," which was played by noble ladies. Beginning in the Muromachi period (14th–16th century), the dolls became too beautiful to be used as toys and were instead used for the show.
Source-https://livejapan.com/en/article-a0000994/
The modern-day form of placing up the dolls to wish for good health for the females in the family is thought to be a blend of "nagashi-Hina" and "Hina-Asobi," which originated in the Edo period (17th–19th century) and has since become a March 3rd celebratory custom.
From Risshun (the First Day of Spring) to Hina Matsuri, the dolls are usually taken out and displayed in the house.
9.Nebuta Matsuri – Aomori
Nebuta Festival, held in Aomori Prefecture, is one of Japan's most stunning and lively festivals. It is known all over the world for its massive floats known as "Nebuta," which depict ancient and valiant warriors. In fact, when you think about Japanese festivities, the Nebuta Festival is perhaps the first that comes to mind.
Source-https://matcha-jp.com/en/3970
Hundreds of "Haneto" dancers accompany the floats, accompanied by Taiko drums and flutes. One of the best aspects of this event is that anyone can join the dancers as long as they are dressed in a traditional haneto dancer's costume, which can be found all throughout the city. There will be no procession on the last night (7th), but there will be stunning fireworks instead.
Nebuta Festival, together with Sendai Tanabata Festival and Kanto Festival, is one of Tohoku three major festivals, attracting about 3 million visitors each year.