Sushi is a globally famous Japanese dish. Adults and kids love it with great passion. But some people don't like the idea of raw fish.
However, there is a type of sushi that is not made up of seafood. Not only that, but it is pretty delicious. It's called Inari Sushi and is one of the best items you can have. Here is everything you need to know about it and how to make it.
Inari Sushi – What Is It?
Inari Sushi is also known as Inarizushi. It is made by filling pockets of deep-fried tofu with sushi rice. In Japanese, these tofu pockets are called aburaage or Inari age.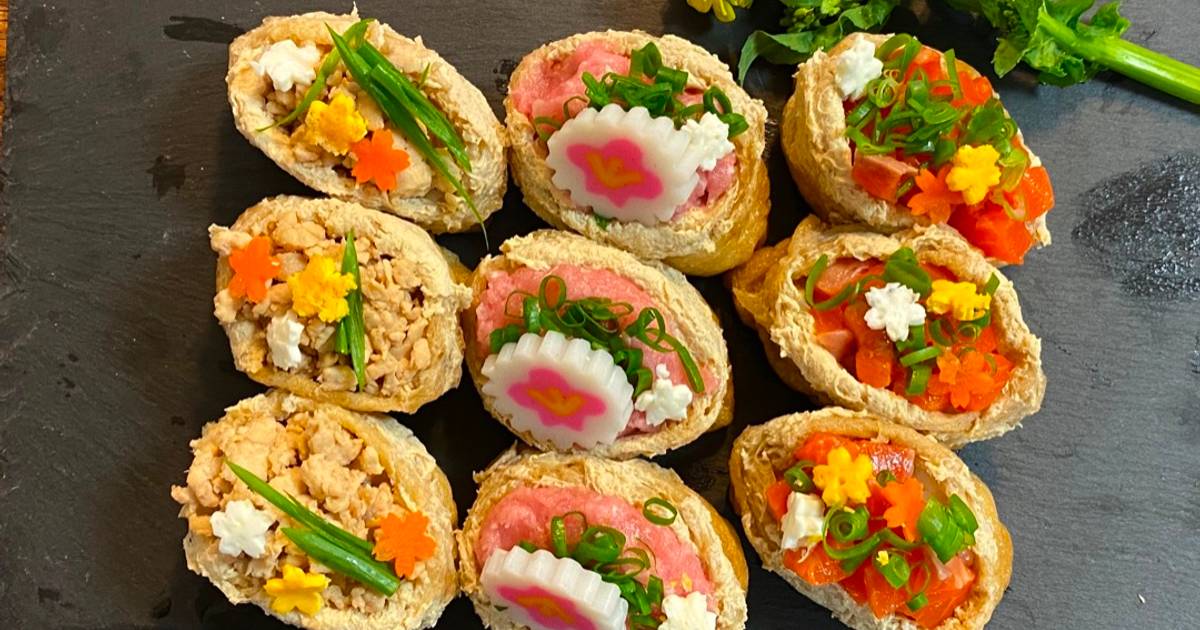 SOURCE- https://cookpad.com/us/recipes/11693003-inari-sushi-on-girls-festival-3rd-march-japan
The best thing about the aburaage is that it is made by simmering in a dashi broth. This gives the tofu a sweet and tangy flavor. That is why many people love the dish immensely. In Japan, parents even pack the Inari roll as lunch for their kids.
Background Of Inari Sushi
There are many types of sushi that you may come across. The Inari Sushi is one of the oldest Japanese dishes. It came into being in the 18th century during the Edo period.
In the early period, people used to visit the shrines of Inari Okami. She is the Japanese god of rice, fertility, prosperity, and much more. Anyways, it is reported that the deity's kitsune (fox) messengers were fond of deep-fried tofu.
Hence, whenever someone visited the shrine, they used to take the aburaage with them for the offering. Later, people improvised the dish by using some portion of their recently harvested rice as a filling. This, of course, was done to thank the deity.
After the rice was added to the dish, it got the name Inarizushi. With the evolvement of the languages, it is now popularly called Inari Sushi. Some people even call it Kitsune Sushi because of the foxes.
Inari Sushi – Different Variations
You may think that everyone offers the same dish in Japan. However, that is not the case. There are significant differences in the Inari rolls you'll find across the country. And it all depends on the area you have it in.
Gomoku Inari – Kansai
The two areas of Japan that serve different Inari Sushi are the Kansai and Kanto regions. In the Kansai area, people make the Inari roll by giving the aburaage a triangular shape. They provide them with this shape to resemble Mount Inari and the kitsune's ear.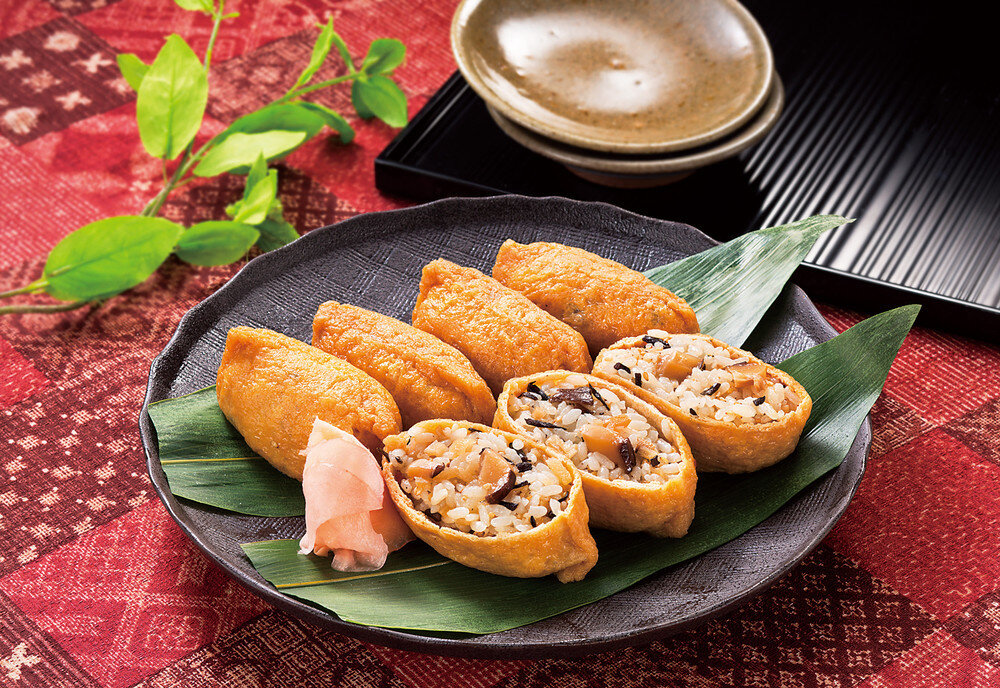 SOURCE- https://shiitakejapan.com/en/gomoku-inari-sushi-sushi-wrapped-in-seasoned-fried-tofu-pockets.html
Besides that, in the Kansai variation, the rice sits at the bottom of the pocket. Not only that, but it is seasoned using few other ingredients too. That is why in the region, it is also known as Gomoku Inari.
Inari Sushi – Kanto
In contrast, the Kanto region Inarizushi is molded in the shape of a straw bag. The rice is entirely wrapped inside the aburaage. Additionally, only vinegar is used as a seasoning for this dish.
SOURCE- https://www.justonecookbook.com/inarizushi/
These variations are not limited to Japan. In other areas and countries as well you might find different versions of the meal. Another great thing is that you can make the Inari rolls at home too.
Essential Components Of Inari Sushi
Inari Sushi is a pretty popular meal in Japan. You can eat it at restaurants, or you can hit the supermarket deli. Not only that but you can make it at home too. The best thing is that every component of the dish is easy to make. Here are the two things that you will always require to prepare the Inari roll.
1.Aburaage
Aburaage is the deep-fried tofu pockets that support the flavored rice. People like the ingredient because it is spongy and can be molded into different shapes. It also serves as a good alternative for fish, which most sushis are made out of.
SOURCE- http://www.otakufood.com/ingredients/aburaage-fried-tofu/
The best thing about aburaage is that you can get it from any Asian store. In some shops, you'll find canned Inarizushi No Moto, which contains pre-fried tofu pockets. However, keep in mind that sometimes these can be a little too sweet. So if you don't like the canned ingredient, you can get raw aburaage sheets from the store.
You can fry the sheets yourself, then simmer them in the dashi broth and soy sauce for flavor. But if you love to prepare everything yourself, then you can make the tofu pockets from scratch. The fantastic news is that they are easy to make, and all ingredients are readily available in the market.
2.Sushi Rice
Just like all other types of sushis, the Inarizushi also contains rice. These are referred to as sushi meshi as well. You can prepare them by mixing steamed rice with sugar, rice vinegar, and salt. They give a tangy and sweet flavor to the dish.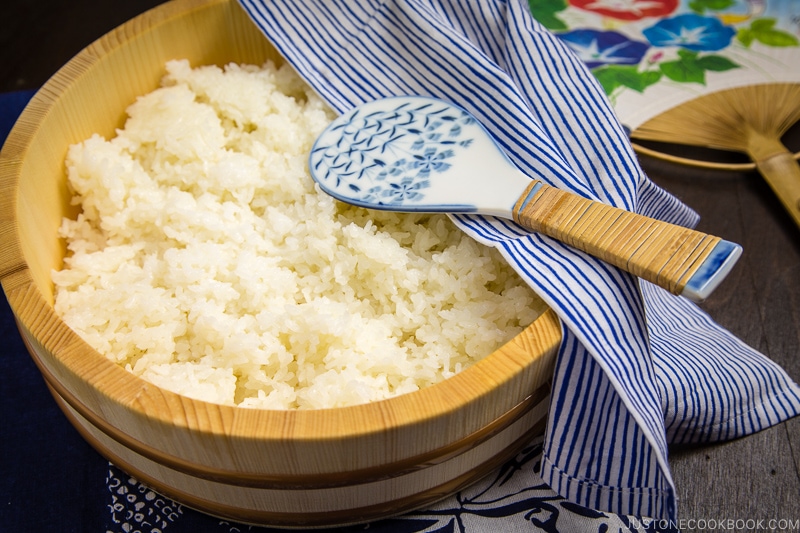 SOURCE- https://www.justonecookbook.com/how-to-make-sushi-rice/
If you don't love preparing the mixture or can't get the amount right, you can also buy vinegar-flavored rice. And if you're not a fan of the citrus taste, no need to worry. The good thing about Inari Sushi is that it is highly customizable. So you can prepare the filling with plain steamed rice too.
Additional Components Of Inari Sushi
If you like your food to be basic, the essential components will be adequate to cook a flavorful Inari Sushi. But if you want to improvise or prefer more ingredients, then you can use other things too. Here are some items that you can add to the filling:
1.Sesame Seeds
Many people love a nutty flavor in their meals. If you also prefer that, then adding sesame seeds will do you good. You can use white or black as per your preference. They are typically mixed with rice and placed inside the tofu pouches.
SOURCE- https://www.medicalnewstoday.com/articles/sesame-seeds-benefits-risks-meal-ideas-and-more
2.Pickled Cherry Blossoms
This addition is limited to Japan only during the cherry blossom season. People preserve the flowers in salt and use them as food décor. You can place the pickled cherry blossom on top of the rice. Or you can mix them within as well.
SOURCE- https://www.diversivore.com/preserved-cherry-blossoms/
3.Shiso Leaves (Perilla)
The shiso leaf can enhance the taste of your Inari Sushi. They refine the taste of the meal and make it more flavorful.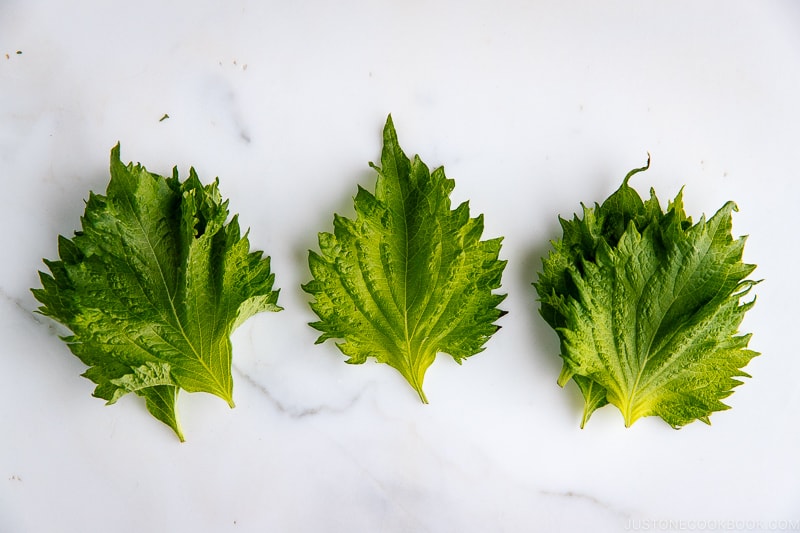 SOURCE- https://www.justonecookbook.com/shiso-perilla/
4.Egg Crepe
These are called kinshi tamago in Japanese. They are thin slices of egg and are used for decoration. They also increase the protein content of the meal and offers you more flavor.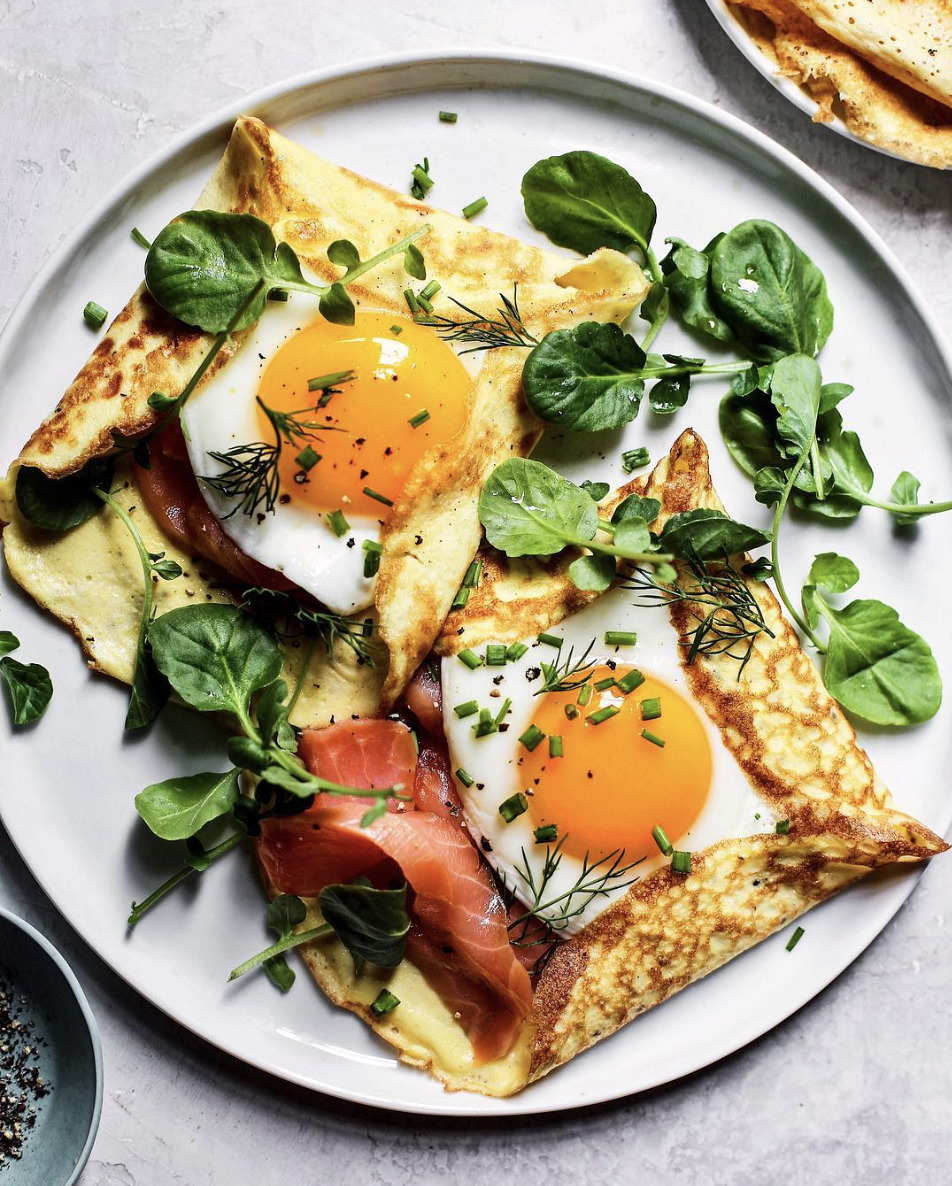 SOURCE- https://thefeedfeed.com/thedaleyplate/crepe-pockets-with-smoked-salmon-eggs-and-herbs
5.For Gomuku Inari
If you love the Gomoku Inarizushi, then you should keep in mind that it includes different ingredients. Including the two essential components, the dish has three other items too. These are shitake mushrooms, hijiki seaweed, and edamame (beans). All the ingredients are mixed with rice before stuffing into the aburaage.
6.Alternatives For Rice
While sushi involves rice, it does not mean that you cannot have it without them. If you're not a fan of rice, that's okay. You can still enjoy the Inari Sushi by adding alternatives.
Instead of rice, you can use soba noodles or somen for filling. Some people even add quinoa to the tofu pocket. These items are typically seasoned with other things and then added to aburaage. Or you can fill the pouch with the ingredients and then place seasonings on top.
How To Cook Inari Sushi?
To make the Inari rolls, you need to cook the essential components first. Here is everything you need to know about cooking aburaage and sushi rice.
Making The Aburaage
Many of you may not prefer the store-bought Inari age. After all, it can be too sweet for your taste buds. That is why here is a recipe for making it at home.
Ingredients You'll Require
Aburaage – 6
Dashi – 1 cup
Sugar – 5 tablespoons
Soy sauce – 3 tablespoons
Note: If you're a vegan, then you can replace the dashi with Kombu dashi
How To Prepare Aburaage
Boil water in a medium-sized pot
While the water boils, wrap the aburaage with plastic and roll with a pestle or rolling pin. This will help you to open the pockets with ease
Slice each aburaage in two halves and put them in boiling water
Cover the tofu with a drop lid and boil for three minutes
After the time is up, take out the pieces and rinse them. After that, squeeze out excess water
In another pot, mix the rest of the ingredients and boil
To the boiling mixture, add the aburaage slices and place the lid again
Cook for 15 minutes on medium heat
After cooking, squeeze out some liquid from the aburaage and store it for Inari Sushi
Additional Information
You can store the twelve pieces of aburaage in the refrigerator for two to three days. And in the freezer, you can keep them good for at least three weeks.
Making The Sushi Meshi
Many people don't prefer making Inari Sushi because they think cooking the sushi rice will be difficult. But this is actually the easiest thing that you'll do when making Inarizushi.
Ingredients You'll Require
Short grain Japanese rice – 3 cups
Water – 2.25 cups
Dried kelp – 1 piece
Sushi vinegar – 1/3 cup
Add rice into a bowl and put water until they are entirely under
Drain the water and use your hand to wash the rice in rotational motion for 20 seconds
Add water again and then drain too. Repeat this until you get clear water
Put the drained rice into the cooker or pot. Add water and dried kelp to it
Cook the rice thoroughly
After making the rice transfer them to another container and discard the kelp
Now mix the sugar vinegar well with one hand and use a paper fan to cool with another hand
Store the rice by covering the container with a damp towel
Additional Information
This recipe is as per the aburaage and Inari Sushi quantity. Besides that, don't store rice in the fridge, or it will get hard
Making The Inari Sushi
After making the essential components, you can finally make the Inari rolls. Here are the steps you need to know.
Ingredients You'll Require
Sushi rice you made using the earlier recipe
Aburaage you created using the earlier recipe
Toasted Sesame seeds – 1 tablespoon
Liquid you extracted from aburaage
Optional Ingredients
Shiso – 12 pieces
Seaweed – 12 pieces
How To Prepare Inari Sushi
Mix the sesame seeds with cooked rice
Open the tofu pouches with care
Wet your hands with the extracted liquid and take some rice into your palm to make a ball
If you're using the optional ingredients, then wrap the rice ball in them and fill the aburaage
If you're not using the optional items, then add the rice ball directly to the pocket
Additional Information
With this recipe, you can make up to 12 Inari rolls. They can stay good in a cool environment for a few hours. After that, you should keep leftovers in the refrigerator and consume them within a day.
Essential Tips To Keep In Mind
Preparing Inari Sushi is relatively easy if you follow the right directions. Here are some tips that will make the process a breeze:
Wet your hands when mixing the rice vinegar to ensure they don't stick to your hand
Sometimes the aburaage can become hard after cooking. That is why you should wrap it in cellophane paper and heat it for few seconds in the oven. This will return the softness
For gluten-free Inari Sushi, you should not use soy sauce
What To Serve With Inari Sushi
To enhance the taste of the dish, here are some things you can enjoy it with:
Wasabi – if you prefer a little spicy food, then dipping your Inari rolls in wasabi will surely delight your taste buds
Miso soup – for filling lunch, you can have some miso soup along with the Inarizushi
Tamari – this is a Japanese sauce that is gluten-free and suitable for vegans too
Final Words
That was your complete guide to Inari Sushi. The dish is easily portable and remains tasty after hours. That is why you should try it out, especially if you prefer sushi without fish.