Could Japan be the most Insta – worthy country on the planet? It's entirely conceivable! This amazing country has something for everyone and so many breathtakingly stunning spots, both natural and urban, that deciding which are the greatest is difficult (and very hard to see them all in one visit). A list of must-see places in Japan may number in the hundreds, but we've tried to condense it for you in 27 best places in japan for photography.
Using Japan's world-renowned domestic rail system and your Japan Rail Pass for unlimited travel is, of course, the greatest and most cost-effective way to tour the entire country (and stopping down at all of these spots to capture shots for your Instagram feed).
From temples, castles, and shrines to forests, waterfalls, and mountains, from small rural villages and fishing towns to cities with over 40 million people, from ancient statues to modern landmarks, from hot springs (onsen) and more than 100 volcanoes to the land of heavy snow and snow monkeys in the north, Japan is a country unlike any other and impossible to truly understand without visiting.
27 Best Places in Japan for Photography
1.Motonosumi-inari Shrine, Yamaguchi
The shrine's 123 crimson torii gates lead to a rocky cliff with magnificent azure views of the Japanese seas. With reds and yellows slithering through the sky as the sun sets, the scene is especially stunning.
Source-https://setouchifinder.com/en/detail/6831
The shrine itself consists of a succession of modest buildings at the summit of the hill, as well as a saisenbako (offertory box) five meters in the air, where visitors can toss coins while making a wish, and if the coin falls into the box, the desire will be granted.
2.Miyako-Jima, Okinawa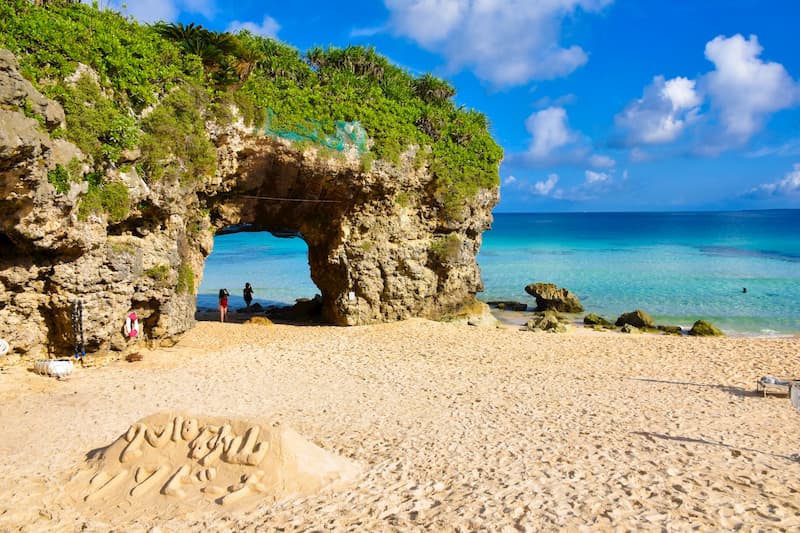 Source-https://selected-ryokan.com/photo/miyako-island-onsen-okinawa.html
This cliffy island with sugar cane farms and lovely white beaches is surrounded by turquoise waters. The island, which is known for snorkeling and is widely regarded as one of Japan's most attractive places, receives a large number of people. The lighthouse at the end of the cape is a popular site for watching the sunrise.
Source-https://travel.gaijinpot.com/miyakojima/
3.Miyajima Island
Miyajima Island is gorgeous in and of itself, but it's best renowned for housing Itsukushima Shrine's stunning torii (gate), which is partially immersed in water. When entering the grounds of a shrine, toriis are designed to symbolize a method to transition from the mundane to the sacred. The deities who rule over the seas and storms are honored at this shrine.
Source-https://travel.gaijinpot.com/itsukushima-shrine/
4.Arashiyama Bamboo Grove, Kyoto
Thousands of flying bamboo stalks line the roads inside this beautiful forest. The route is around 500 meters long and leads to Tenryu-Ji Temple, one of Kyoto's most beautiful Zen temples. The woodland is especially beautiful in the winter when it is blanketed in snow.
Source-https://dailytravelpill.com/how-to-get-to-arashiyama-bamboo-forest-kyoto/
5.Takachiho Gorge, Miyazaki
Source-https://www.journeyera.com/takachiho-gorge-waterfall/
One of the most striking views along the Takachiho gorge is the 17-meter-high Minainotaki waterfall. Photographers may rent a boat and row down the valley, getting up close and personal with the towering volcanic basalt cliffs and lush foliage. There are alternative routes that run beside the gorge's crest providing a different, but equally stunning, vista.
6.Shirakawa-go Village
Source-https://en.japantravel.com/gifu/fairytale-winter-tour-shirakawa-go/18885
As the sakura cherry blossoms bloom in the spring, this medieval village turns pink. The Shirakawa-go Village, a UNESCO World Heritage Site, is made up of traditional Japanese buildings with rafters and crossbeams supporting a slanting thatched roof. The village's farmhouses are built on small terraces and are bordered by forested hills.
7.Gardens of the Imperial Palace, Tokyo
Source-https://travel.gaijinpot.com/tokyo-imperial-palace/
Stone and iron bridges span the moat, connecting the palace structures to the surrounding gardens and streets. Since the late nineteenth century, the Emperor of Japan has resided at the Tokyo Imperial Palace. The inner palace grounds are only open to visitors twice a year, just after New Year's and on the Emperor's birthday.
8.Tateyama Kurobe Alpine Route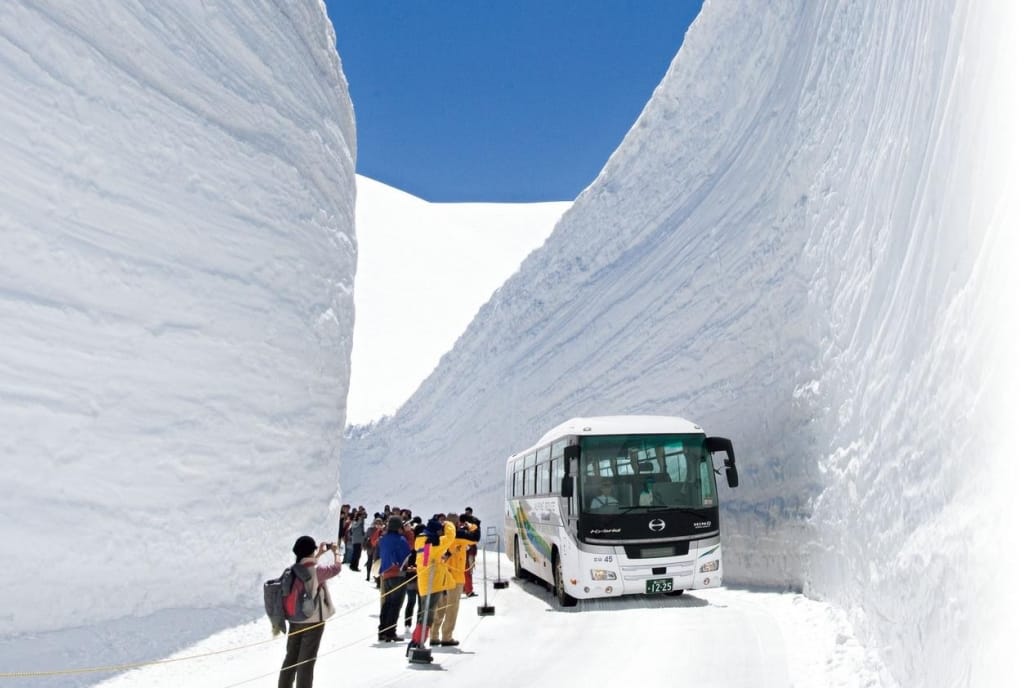 Source-https://kshouse.jp/hakuba-e/hakuba-news_e/hakuba-news_e_20170417.html
The Kurobe Dam is located on the renowned Alpine Route in Japan, commonly known as the "Roof of Japan." The path covers the Japanese Alps mountain range, including Mt. Tateyama, and may be seen from the air as well as traveled on land. Mt. Fuji is one of Japan's "Three Holy Mountains," which includes this mountain.
9.Gokayama, Toyama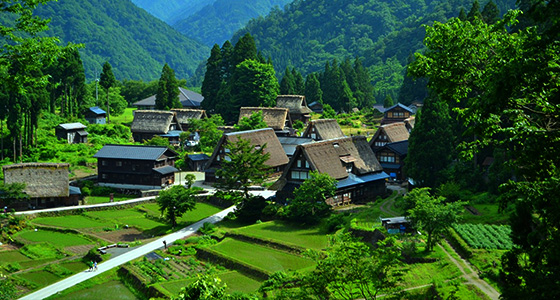 Source-https://gokayama-info.jp/en/
In a rural mountain setting, this UNESCO World Heritage Site comprises traditional buildings, many of which are over 300 years old. Gassho roofs (a thatched, sloped roof) are used on the homes in this little village, and they must be rebuilt every 15 years. The village receives meters of snow in the winter and transforms into a winter paradise that draws a large number of tourists.
10.Kinkaku-Ji (Golden Pavilion), Kyoto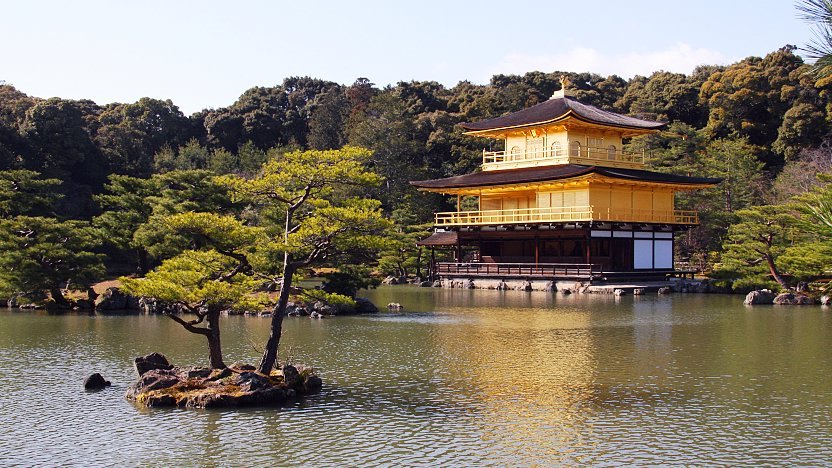 Source-https://www.japan-guide.com/e/e3908.html
In the Rokuon-Ji temple complex, the Golden Pavilion sits on a pond. The gold-leaf-covered pavilion, designated as a National Special Historic Site, stands among gardens, quiet bridges over serene rivers, and an overall design aiming to foster perfect harmony between heaven and earth.
11.Mount Yoshino, Nara
Source- https://travel.gaijinpot.com/mount-yoshino/
In the spring, Sakura (cherry blossom) flowers blanket Mount Yoshino, bringing a large number of people. Around the base of the mountain are a number of noteworthy temples, notably Yoshino Mikumari, a Shinto shrine dating from the early 1600s, and the entire mountain has been listed as a UNESCO World Heritage Site.
12.Blue Pond, Hokkaido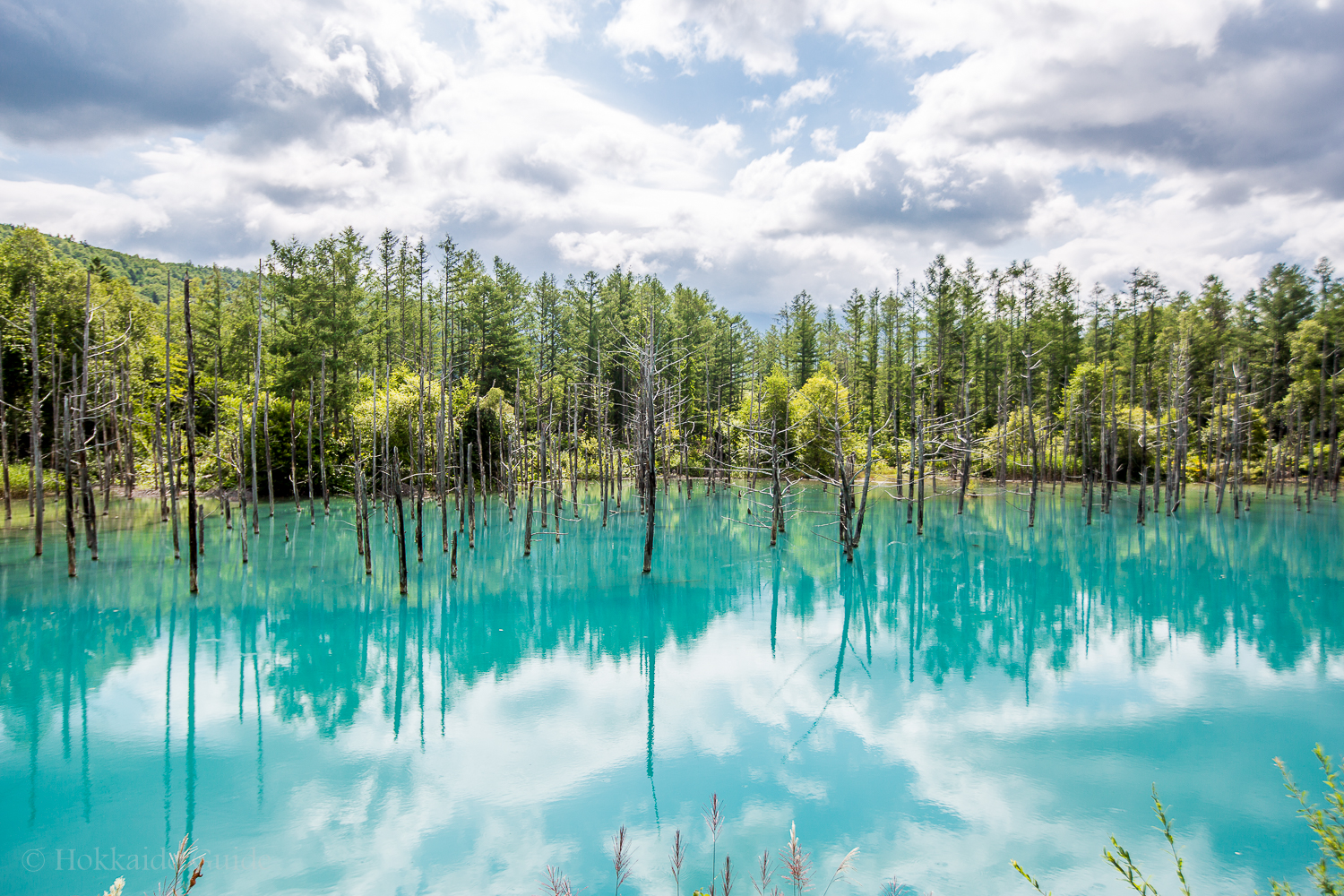 Source-https://hokkaidoguide.com/blue-pond/
Because of the presence of colloidal aluminum hydroxide, the waters of this man-made pond are blue. When a dam was built, the pond was unintentionally created. The dam was built to contain some of the mudflows that would have otherwise wreaked havoc on Biei as a result of Mount Tokachi's eruption. In the spring and fall, the blues are at their most vibrant. This is the ideal location for spectacular photographs.
13.Mount Fuji
Source-https://www.tripsavvy.com/climbing-facts-about-mount-fuji-755935
Mt. Fuji reflected in Lake Kawaguchiko, a major winter and summer vacation region, provides one of the most magnificent vistas of the mountain. Mt. Fuji, Japan's highest volcano, is covered in snow for nearly half of the year, making it a postcard-perfect backdrop and one of the most photographed places in the country.
14.Kumano Nachi Taisha Shrine and Nachi Falls, Wakayama Prefecture
Source-https://www.japantimes.co.jp/life/2018/03/09/travel/two-millennia-heritage-along-wakayamas-kumano-kodo-trail/
Nachi, Japan's largest waterfall, provides the perfect backdrop for this temple, which is surrounded by lush evergreen and moss-covered pathways and is one of the most popular pilgrimage routes in the country. It's also a wonderful spot for taking photos. Every year, the Nachi Matsuri Fire Festival takes place here, with torchbearers bringing massive burning beacons up the stone stairway.
15.Jigokudani Snow Monkey Park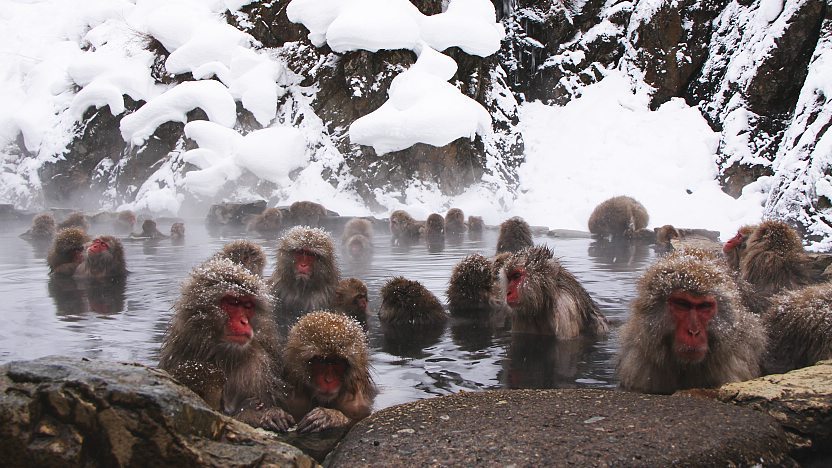 Source-https://www.japan-guide.com/e/e6028.html
During the winter, when the park is blanketed in snow for up to four months a year and temperatures dip, wild Japanese macaques take advantage of the hot springs within Joshinetsu Kogen National Park. The macaques are fed by park guards because there is no other food source in the area, and they have become accustomed to human presence—which is a good thing because tourists visit from all over the world to take pictures of them.
16.Hitsujiyama Park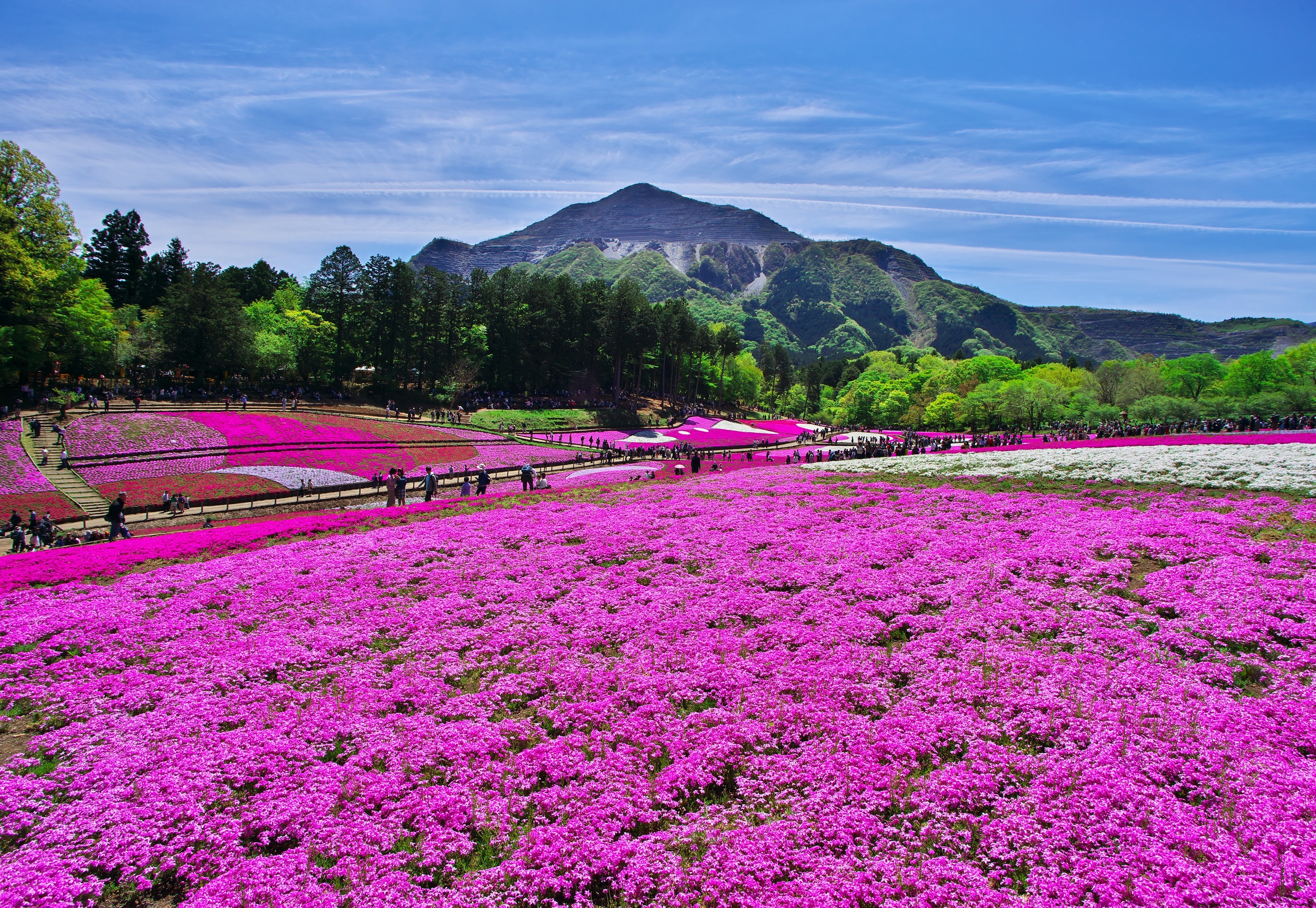 Source-https://www.timeout.com/tokyo/attractions/hitsujiyama-park
If you're a certified pink lover, this stunning location in Japan will make your heart skip a beat. In the spring, Hitsujiyama Park hosts a pink moss festival. The Hill of Pink Moss fields are located at the park's southern end and feature different species of moss pink that give the fields pink, purple, and white hues.
If you're wondering how they managed to bloom so nicely, it's because the flowers were meticulously planted to create multicolored patterns that make for a stunning spectacle. Visit the park between late April and early May to see it in full bloom.
17.Ueno Park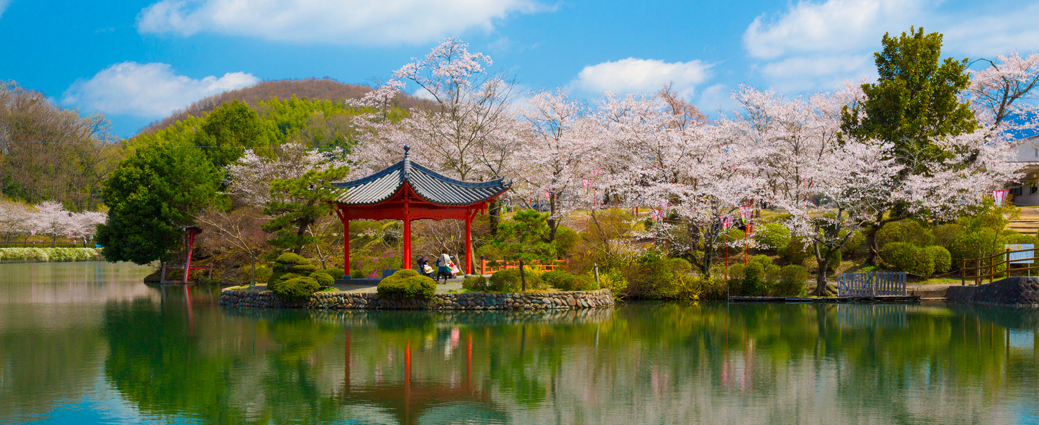 Source-https://intojapan.co.uk/places/ueno-park/
Ueno Park is one of the top Tokyo tourist sites, and you will not be disappointed if you are there. The Tokyo National Museum, the National Museum for Western Art, the Tokyo Metropolitan Art Museum, and the National Science Museum are among the city's many museums. Ueno Zoo, Japan's first zoological garden, is also located here.
With over 1000 cherry trees surrounding its center pathway, this park is also one of Tokyo's most popular and colorful cherry blossom destinations. In late March and early April, the cherry blossoms are usually in bloom.
18.Nagano
Source-https://www.go-nagano.net/en/
Nagano is a fantastic Japanese tourism destination for all types of travelers, with hidden jewels including the Kids Ninja Village, Togakushi Shrine, Shiga Kogen Ski Resort, and Zenkoji Temple. Visit the Togakushi Shrine, Zenkoji Temple, Karuizawa, Matsumoto Castle, and Ninpo Museum for a great tour.
19.Ishigaki Island
Source-https://warmcheaptrips.com/en/ishigaki-island-okinawa/
Ishigaki Island is the ideal tourist place in Japan to visit if you're looking for some sun, beach, and water. It has some of Japan's best beaches as well as fantastic snorkeling and diving opportunities. Snorkeling is available at practically every beach on the island, while diving is best done around Kabira Bay at Manta Scramble.
Ishigaki's rivers have a jungle-like atmosphere and are fun to kayak across. Visit Yonehara Beach, Sukuji Beach, Kabira Bay, Taketomi Island, and Ishigaki Limestone Cave while you're there.
20.Asakusa
Source-https://tokyocheapo.com/entertainment/sensoji-temple-guide/
Asakusa is a popular tourist destination in Tokyo, Japan, where visitors can see old Tokyo and enjoy the lively nightlife. Sensoji, a prominent Buddhist temple erected in the 7th century, is the city's primary attraction. Sensoji Temple, Asakusa Shrine, Hanayashiki Amusement Park, Amuse Museum, and Kaminarimon are all fantastic places to photograph.
21.Akihabara
Are you looking for the most up-to-date and reasonably priced electrical and otaku items? Then visit Akihabara, one of Tokyo's most popular tourist destinations. It is well-known for its numerous electronics and otaku stores. If you're a manga or maid enthusiast, the area's maid and manga cafes are a must-visit. Tokyo Anime Center, Rygoku Edo Noren, Ginza Line Crossing, Sofmap, and Don Quijote are all worth a visit.
22.Kabukicho
Source-https://tokyocheapo.com/entertainment/things-to-do-in-kabukicho/
Kabukicho, named after a kabuki theater, is Japan's largest red-light district, with a plethora of restaurants, pubs, nightclubs, pachinko parlors, love motels, and other red light venues. If you're feeling really daring, Kabukicho is a must-see Tokyo tourist destination. Robot Restaurant, Shinjuku Golden Gai, and the Museum of Haiku Literature are all worth visiting.
23.Nagoya
Source-https://resources.realestate.co.jp/area-guide/nagoya-city-guide/
Nagoya is Japan's third-largest metropolitan region and one of the country's most well-known cities. It is home to some of Japan's most successful worldwide corporations, such as Toyota. You can visit Nagoya's various attractions, which include museums, gardens, and themed parks. Nagoya Castle, Korankei, Botanical Gardens, and Higashiyama Zoo, Tokugawa Garden, and Nabana no Sato are all great places to photograph.
24.Shirakawago
Shirakawago is one of Japan's most beautiful locations. The small village in Ono District's valley appears like something out of a storybook. Shirakawago is well-known for this reason. This Japanese tourist site exemplifies traditional village living.
Shirakawa-largest goes village and the main attraction, Ogimachi, is a must-see. Staying overnight at one of the farmhouses is the ideal way to experience Shirakawago. Fairytale Houses, Gassho-zukuri Minkaen, Wada House, Hakusan National Park, and Ogimachi Village are the ideal places to take Instagram-worthy photos.
25.Kobe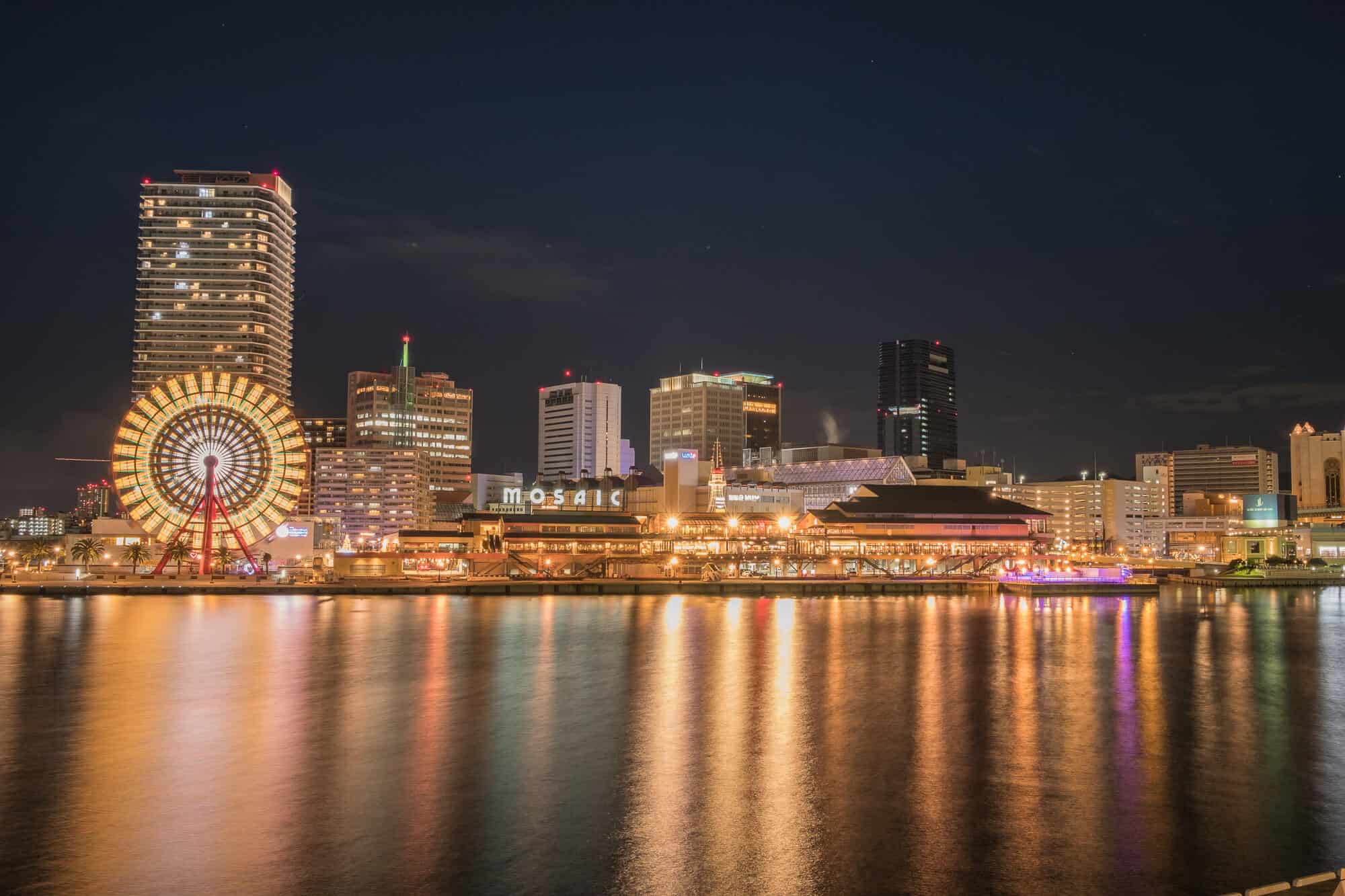 Source-https://www.nomadasaurus.com/things-to-do-in-kobe-japan/
The Great Hanshin-Awaji Earthquake struck Kobe in 1995, killing over 5000 people and destroying tens of thousands of buildings, making it one of Japan's most historic cities. The Earthquake Museum is a great place to visit to commemorate the historic event.
Aside from that, Kobe is known for its delectable beef, therefore a visit here for a meal is a must. Wakamatsu Park, Kobe Oji Zoo, Arima Onsen, Earthquake Museum, and Sorakuen Garden are all worth seeing.
26.Fushimi Inari Shrine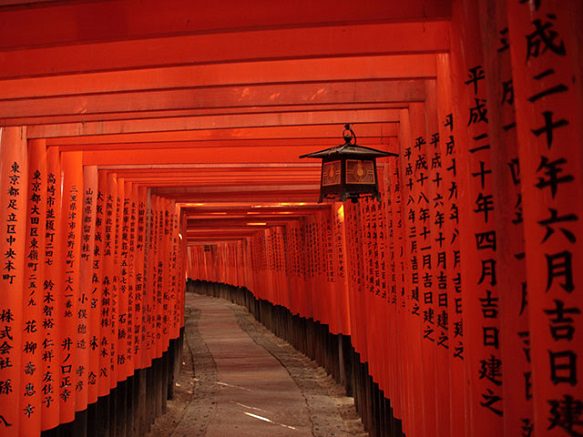 Source-https://japandeluxetours.com/experiences/kyoto-fushimi-inari-shrine
Thousands of vermillion tori gates flank the path to Fushimi Inari Shrine's inner shrine, making it one of Japan's most aesthetically spectacular vistas. Ancient hiking trails line the slopes behind the shrine, which are also lined with tori gates.
27.Great Buddha, Kamakura
Source-https://travel.gaijinpot.com/great-buddha-kamakura/
The Great Buddha of Kamakura is a massive bronze Buddha statue that, while being hollow, weighs 121 tons. Due to its proximity to Yokohama harbor during the 1860s to 1930s, the Great Buddha of Kamakura was the most photographed object in Japan during the era of ocean liners.
Final Thoughts
Japan may conjure images of Tokyo's contemporary streets and massive buildings, but this ancient country is full of natural beauty found nowhere else on the planet—in fact, wooded mountains, mangrove jungles, and intimidating volcanoes cover 70% of the country. Photographers will be able to choose from a wide range of subjects.