With millions of visitors expected to visit Japan during the holiday season, there's no better time to learn about the country's customs and traditions. Aside from the tens of thousands of festivals organized by Japan's local shrines and temples, the country also honors its citizens through long-standing customs. Japan has reason to rejoice from January through December.
In Japan, public holidays are observed. When a national holiday falls on a Sunday, the following working day is designated as a public holiday, which is known as furikae kyujitsu ("compensatory public holiday"). Additionally, every day that falls between two other national holidays, known as kokumin no kyujitsu ("citizens' holiday"), becomes a holiday. Until Greenery Day replaced it in 2007, May 4, sandwiched between Constitution Memorial Day (May 3) and Children's Day (May 5), was an annual example of such a holiday.
Below is the table of all the public holidays:
| | |
| --- | --- |
| Holiday | Date |
| New Year's day | 1 January |
| Coming of Age day | 2nd Monday of January |
| National Foundation day | 11 February |
| The Emperor's Birthday | 23 February |
| Vernal Equinox | Around 20-21 March |
| Showa day | 29 April |
| Constitution Memorial day | 3 May |
| Greenery day | 4 May |
| Children's day | 5 May |
| Marine day | 22 July |
| Sports day | 23 July |
| Mountain day | 8 August |
| Respect for the Aged day | 3rd Monday of September |
| Autumnal Equinox day | Around 22-23 September |
| Culture day | 3 November |
| Labor Thanksgiving day | 23 November |
Prior to Japan's adoption of the Gregorian calendar in 1873, the traditional Chinese lunisolar calendar was used to determine festival dates. As a result, New Year's Day was observed at the start of spring, as it is in modern China, Korea, and Vietnam. There are 16 government-recognized national holidays in Japan.
Now let us look into these holidays.
New Year's Day
Source-https://www.hisgo.com/us/destination-japan/blog/japanese_new_years_traditions.html
New Year's Day, kicks off Shōgatsu, which is observed usually in the first 3 days of the year. It's considered one of the most important holidays/festivals of Japan.
During this period, Japanese people consume Osechi-Ryori, a unique combination of sweet, sour, and dried foods that can be stored without refrigeration. This dates back to the days before refrigerators were installed in homes and stores were closed for the holidays.
On New Year's Day, most Japanese people visit a shrine to worship, especially after waking up early to watch the first dawn of the year. People spend hours climbing mountains at night to sit and wait for the sunrise.
Then there's the Japanese tradition of writing handwritten New Year's Day postcards to each and every close family and friend, wishing them a happy new year and informing them that everyone is fine. Children also receive money wrapped in envelopes as a New Year's gift from their parents or grandparents.
Coming of Age Day
Japan embarks on yet another national holiday just days after the Shigatsu. Coming of Age Day honours those who turned 20 in the previous year, signifying their transition to maturity. Adults and their families attend the Coming of Age Ceremony on the second Monday of January.
Source-https://blog.gaijinpot.com/coming-age-day-japan/
Seijin no Hi is a rite of passage for every 20-year-old in Japan, as the age of 20 is considered the formal start of adulthood in the country. Participants are aware of and accept their new societal duties as well as their newfound independence at this age. Families frequently go to shrines to pray for the health and success of their celebrants.
National Foundation Day
In contrast to other countries, Japan celebrates National Foundation Day. Every February 11, Japan commemorates its founding and the ascension of Emperor Jimmu, the country's first emperor.
Kenkoku refers to the "foundation of a nation," whereas kinen refers to the "commemoration." Originally, Japan celebrated the event on the Chinese lunisolar calendar New Year.
Source-https://theculturetrip.com/asia/japan/articles/celebrate-national-foundation-day-japan/
During the festival, people pay their respects and march in parades. Early in the morning in Tokyo, you can join the National Foundation Day march, which features patriots waving flags and carrying portable shrines. Visitors also flock to the Kashihara Shrine in Nara Prefecture, where Emperor Jimmu is said to have ascended the Chrysanthemum Throne in 660 BC. The shrine is open to anyone with a strong interest in Japanese history.
The Emperor's Birthday
The Imperial Palace of Japan opens for the public twice a year only, for the Emperor's New Year greetings and his birthday. On these occasions, the Imperial Palace grounds in Tokyo are filled with both Japanese and foreign tourists. While not many countries celebrate their leaders' birthdays as holidays, Japan considers the birthdays of its Emperors to be one of the most significant days of the year.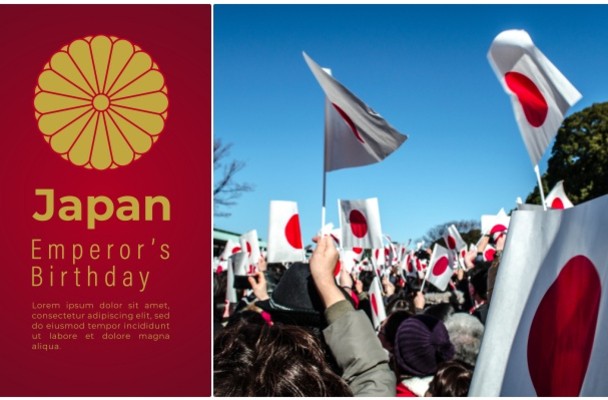 Source-https://www.fun-japan.jp/en/articles/12197
Since 1948, the Emperor's birthday has been a movable national holiday in Japan. Because the Emperor and the Imperial family are seen as symbols of the state and Japan's unification, the country recognizes the value of commemorating the Emperor's life. The Chrysanthemum Throne, commonly known as the "Imperial Throne," is also commemorated on this day. Emperor Naruhito has already risen to the throne, which implies the Tenno Tanjobi will be held on February 23, 2020, starting in 2020.
Vernal Equinox
Vernal Equinox Day, which occurs every year between March 19 and 22, according to astronomical calculations, began as a Shintoist celebration. It now commemorates the spring equinox, when the lengths of day and night are equal. It's the official start of Autumn, exactly as Shunbun no Hi (Autumnal Equinox Day) signifies the start of the season.
Source-https://blog.gaijinpot.com/autumnal-equinox-day-in-japan/
The Vernal Equinox is traditionally a time for people to pay respects to ancestors, visit loved ones' graves, and refresh their lives by cleaning their homes. After a long winter, people take the day off work to spend time with their families and celebrate the arrival of spring.
Showa Day
Showa Day is a national holiday commemorating Emperor Showa Hirohito's birthday, which falls on April 29. He reigned from 1926 to 1989. The purpose of this holiday is to commemorate the tumultuous 63 years of the Showa era, which saw Japanese invasions of other nations, attempted coups, totalitarianism, World War II, and the meteoric growth of Japan's postwar economic miracle.
Source-https://study.gaijinpot.com/lesson/holidays/showa-day/
It also marks the start of the crucial Golden Week, Japan's busiest travel period of the year. The mother of all Japanese public holidays falls this week. Depending on the year, Showa Day, Constitution Memorial Day, Greenery Day, and Children's Day can all coincide to form an ultimate holiday week (or more!) for busy Japanese salaried workers, with some companies even shutting down altogether.
Constitution Memorial Day
On May 3, Constitution Memorial Day commemorates the adoption of Japan's post-World War II constitution in 1947.
Constitution Memorial Day is frequently used as a time to ponder the meaning of democracy and the Japanese government. In 2003, for example, a number of media published editorials about Article 9 of the constitution, which defines the country to be a pacifist nation.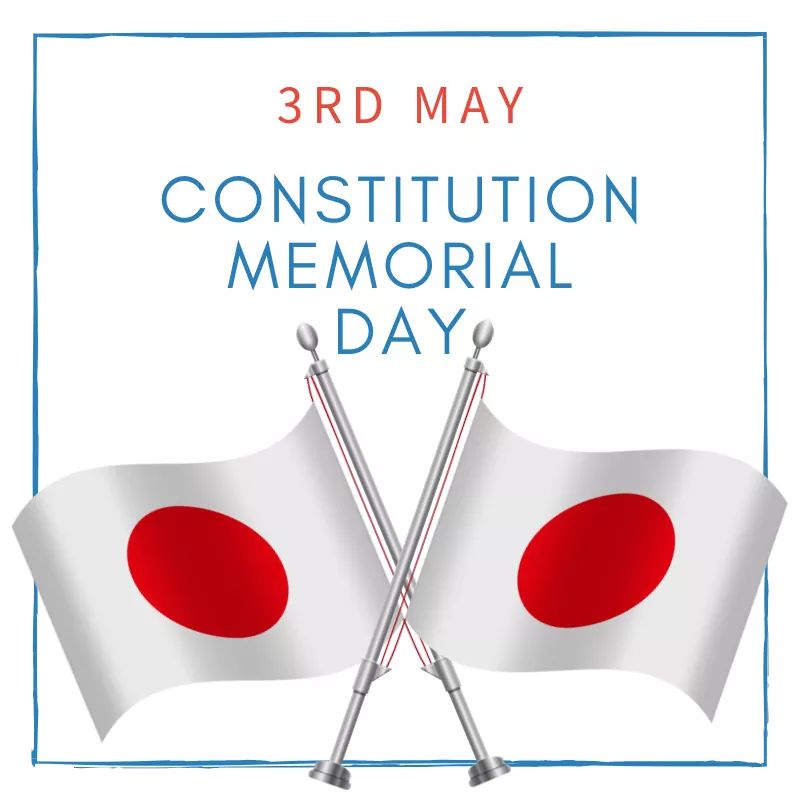 Source-https://twitter.com/asiancommunity1/status/1124295225302609921
Constitution Memorial Day is a commemoration of historical events in Japan. Every year on May 3rd, the National Diet opens its doors to the public for tours of the building. Golden Week in Japan includes Constitution Memorial Day. To mark the inauguration of the new emperor, Naruhito, a one-off Platinum Week was conducted in 2019 with additional festivities and longer duration.
Greenery Day
The current observance of Greenery Day as a national holiday in Japan derives from the Shwa era's annual celebration of Emperor Shwa's birthday on April 29. (1926-1989). Following Emperor Akihito's succession to the Chrysanthemum Throne in 1989, the holiday's name was changed from "Birthday of the Emperor" to "Greenery Day." Officially, it is a day to communicate with nature and give thanks for blessings, as the name suggests. Greenery Day was renamed to honor the controversial wartime emperor's love of flora without publicly mentioning his name.
Source-https://cotoacademy.com/japan-national-holiday-greenery-day/
Children's Day
Families raise koinobori, or carp-shaped windsocks, with a black carp for the father, a crimson or pink carp for the mother, and one carp for each child on this day. When Boys' Day was honored in the past, the eldest son received a red koinobori, while junior siblings received blue and more hues. Due to their legacy as symbols of power and vigor, families may also exhibit a samurai doll, sometimes riding on a huge carp, and/or the traditional Japanese military helmet, kabuto.
This day is historically marked by the serving of kashiwa mochi (sticky rice cakes filled with red bean jam and wrapped in oak leaves) and chimaki (sticky sweet rice wrapped in an iris or bamboo leaf).
Source-https://savvytokyo.com/kodomo-no-hi-guide-childrens-day-japan/
Marine Day
Marine Day, also known as "Ocean Day" or "Sea Day," is a national holiday in Japan that is observed on the third Monday in July. The objective of the holiday, as can be derived from its name, is to give thanks for the ocean's richness and to reflect on the ocean's significance to Japan as a maritime nation.
Families can swim, snorkel, surf, or dive at beaches like Isshiki Beach in Hayama on this day. People can also take part in a mud-ball throwing competition. Mud-balls are made up of powerful microorganisms that help break down and remove sea dirt. On this day, national aquariums organize special water-related events.
Source-https://flash-agt.com/en/marine-day-japans-%E6%B5%B7%E3%81%AE%E6%97%A5-umi-no-hi/
Sports Day
Sports Day, also known as Health and Sports Day, is a Japanese national holiday celebrated every year on the second Monday in October. It exists to encourage sports and an active lifestyle, and it honors the inauguration of the 1964 Summer Olympics in Tokyo.
Sports Day is commemorated in Japan with most municipalities and schools hosting a sporting event akin to a mini-Olympics. Many classic track and field events, such as 100m sprinting and long jump, are included in these festivals, as well as a variety of other activities. Another popular event is the "exciting relay," which is an obstacle course relay that includes a variety of challenges such as three-legged races, making a stretcher with some blankets, and bamboo poles for the purpose of carrying an "injured" teammate, laundry hanging and cartwheels across a mat.
Source-https://www.japantimes.co.jp/news/2020/10/23/national/japanese-schools-sports-days-coronavirus/
The date for Sports Day in 2020 has been shifted to July 24, to coincide with the opening of the Summer Olympics, as part of a unique arrangement for the 2020 Summer Olympics. Because the Olympics and Paralympics were postponed until 2021 owing to the COVID-19 epidemic, the government decided to keep this modification in place for 2020 and alter the Olympic and Paralympic Special Measures Act to move the holiday to July 23 in 2021.
Mountain Day
Beginning in 2016, Mountain Day will be observed as a public holiday on August 11th, as announced in May 2014. Legislator Seishiro Eto and the Japanese Alpine Club were among those who supported the vacation. The purpose of the holiday, according to the legislation, is to provide an "opportunity to become acquainted with mountains and enjoy mountain blessings."
Mountain Day has been changed to August 10 in 2020 as a special arrangement for the 2020 Summer Olympics.
Source-https://www.japantimes.co.jp/news/2016/08/10/national/third-japan-unaware-mountain-day-holiday-makes-debut/
Respect for the Aged Day
Because of the Happy Monday System, Respect for the Elderly Day falls on the third Monday of September. This method shifted the number of Japanese public holidays to Mondays in order to give those who work a five-day week more three-day weekends. Respect for the Aged Day, which honors senior persons, provides an insight into how the Japanese regard their elders.
Source-https://cotoacademy.com/respect-for-the-aged-day/
Autumnal Equinox
Autumnal Equinox Day in Japan falls on September 22 or 23, the date of Japan Standard Time Southward Equinox.
For the sake of separation of religion and state in Japan's postwar constitution, this holiday was repackaged as a non-religious celebration, as was the case with other holidays.
Source-https://cotoacademy.com/autumnal-equinox-day/
People will reconnect with their families by caring for ancestors' graves and visiting shrines and temples on this day. People also enjoy outdoor activities and Shobun no Hi foods such as botamochi, a sweet rice ball dipped in azuki paste, to commemorate the good weather and autumn harvest.
Culture Day
Culture Day is a national holiday in Japan celebrated every year on November 3 to promote culture, the arts, and academic achievement. Art exhibitions, parades, and award ceremonies for prominent artists and scholars are usually part of the festivities.
Because Culture Day serves to encourage the arts and other fields of academic effort, municipal and prefectural governments frequently use this day to host art exhibits, festivals, and parades. For example, the yearly Feudal Lord's Parade in Hakone, Kanagawa Prefecture, showcases Edo era dress and costumes. On or near this day, many primary and secondary schools have a "cultural festival."
Source-https://tokyoesque.com/culture-day-in-japan/
The award ceremony for the coveted Order of Culture has taken place on this day since 1936. It is one of the Imperial Family's highest honors, granted by the Emperor himself on persons who have greatly advanced science, the arts, or culture. The prize is not limited to Japanese citizens, and it was given to the Apollo 11 astronauts, as well as literary scholar Donald Keene, upon their successful return from the moon.
Culture Day is one of the clearest days of the year, according to statistics. There were just three years between 1965 and 1996 when rain fell on Culture Day in Tokyo.
Labor Thanksgiving Day
Labor Thanksgiving Day is a national holiday in Japan that is observed every year on November 23 unless the date falls on a Sunday, in which case the holiday is shifted to the next day. The ordinance that established the holiday describes it as a time to honor labor, celebrate production, and express gratitude to one another.
The Nagano Ebisuko Fireworks Festival is one of the many events held around Japan.
On this day, school children make cards or gifts to give to police officers, firefighters, medical staff, members of the Japan Self-Defense Force and the Japan Coast Guard, and other members of the workforce to express gratitude for their services to the country. Companies evaluate their achievements and thank their employees for their hard work. On this holiday, families come together and eat dinner at home. Additionally, folks are urged to unwind and care for themselves.
Source-https://cotoacademy.com/labour-thanksgiving-day/
Japan is a joyous country. With all of the holidays playing such an important role in the Japanese culture, the country's rich history is relieved year after year and carefully passed down from generation to generation. The country's holidays reinforce the country's traditions in everyone, preserving Japanese culture's richness.
Make the most of your trip to Japan! Set your vacation to coincide with a Japanese holiday to experience the country's patriotism, respect, unity, and good spirits. Although the busiest times are usually the holidays, when everyone is eager to get away from work and school, witnessing Japan in a happy spirit is unrivaled.